Membership to the Fleet Society was announced on November 5, 2014, and is open to those who display a commitment to our mission, which not only includes promoting awareness of the recent 300th Anniversary, but also a dedication to scholarly study.
Each member receives a signed certificate, a lapel pin, and member badge (all pictured below).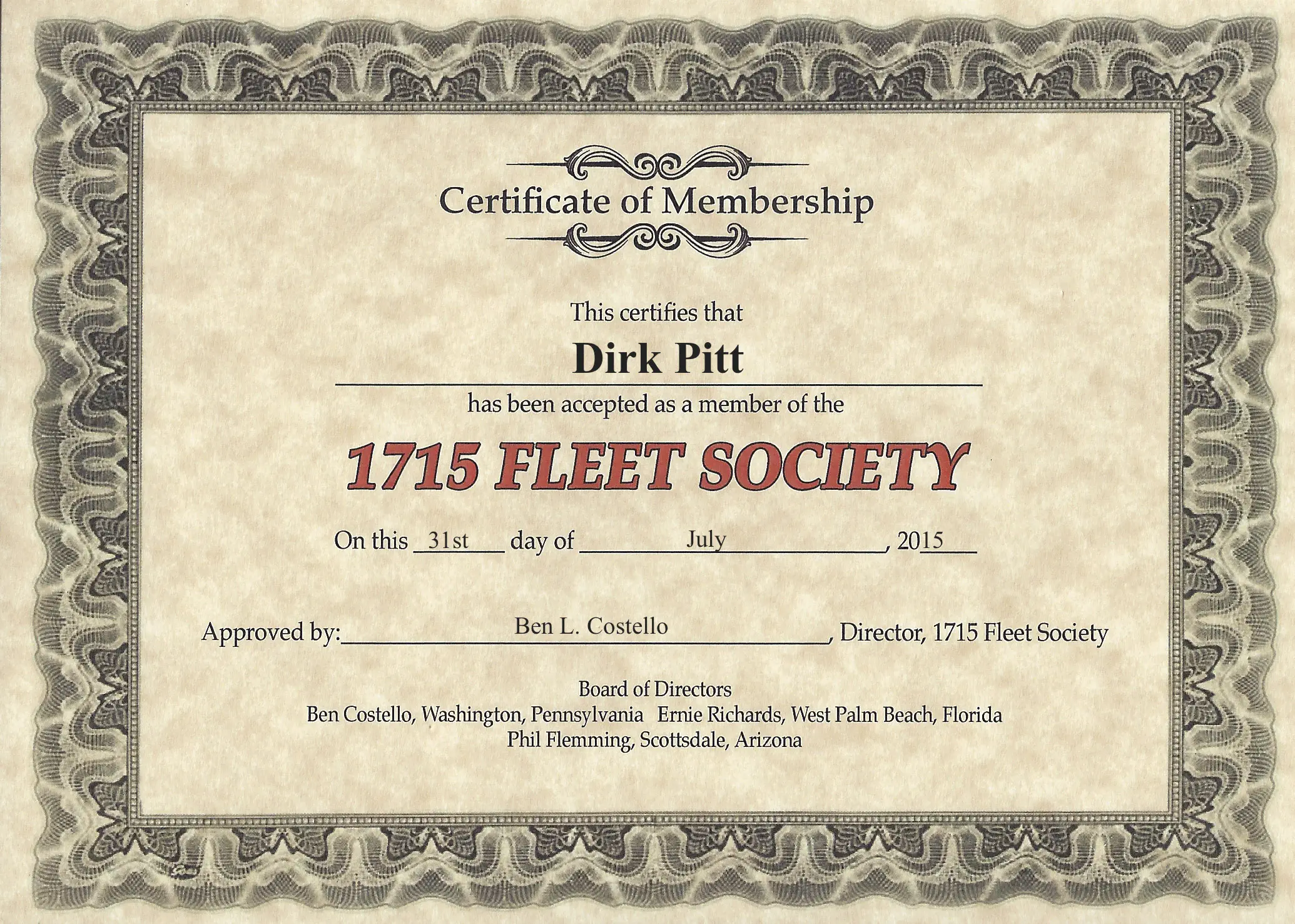 Membership can now be purchased online on the Membership Page.
1715 Fleet Society Members
Member No.
Name
Location
1
Frank Noga
Eastlake, Ohio
2
Dan Sedwick
Winter Park, Florida
3
Augi Garcia
Winter Park, Florida
4
Steve Hodges
Vero Beach, Florida
5
Linda Hodges
Vero Beach, Florida
6
John Pullin
Santa Fe, New Mexico
7
Dave Crooks
West Palm Beach, Florida
8
John Hughes
Lake Park, Georgia
9
Terry Armstrong
Merritt Island, Florida
10
Jorge Proctor
Pompano Beach, Florida
11
Mike Brown
Albany, Georgia
12
Ray William
Trenton, New Jersey
13
John Fuselar
Columbia, South Carolina
14
Sandy Sadwin
Wantagh, New York
15
Alan Sadwin
Wantagh, New York
16
Bernard Reller
Gainesville, Florida
17
Dale Schroeder
Stafford, Virginia
18
Jose O. Busto
San Juan, Puerto Rico
20
Joy Warshauer
Ft. Pierce, Florida
21
Richard Jewell
Wexford, Pennsylvania
22
Craig Grella
Pittsburgh, Pennsylvania
23
Tom Uram
Eighty-Four, Pennsylvania
24
Bill Pearson
Deland, Florida
25
Eugene Parker
Ocean City, Maryland
26
Gay Withers
Melbourne, Florida
27
Keith Danks, Jr.
Ft. Pierce, Florida
28
Tim Fenstermaker
Vero Beach, Florida
29
Karen McKee
Cayman Islands
30
Patti Whipple
Kissimmee, Florida
31
Ann Ring
Riverview, Florida
32
Art Minklein
Shrewsbury, Massachusetts
33
Dan ThompsonDan Thompson (1920 – 2005) Was a diver and original member of the Real Eight Company. Born in  Savannah, Georgia, he  was an electrical engineer and had a distinguished career in the U.S. Air Forc... More
Melbourne, Florida
34
Tammy Gross
Orlando, Florida
35
John de Bry
Melbourne, Florida
36
Arthur Schweizer
Palm Beach Gardens, Florida
37
Allen E. Balogh
Ormond Beach, Florida
38
Danny Lee
Lakeland, Florida
39
Buddy Martin
Stuart, Florida
40
Mary Maranville
Juno Beach, Florida
41
Kevin Maranville
Juno Beach, Florida
42
Dr. Timothy Walton
Rockingham, Virginia
43
Burton Spiwak
Orlando, Florida
44
William Brant
Cumberland, Rhode Island
45
Steve Gormly
Franklin Square, New York
46
Angela Gormly
Franklin Square, New York
47
Timothy H. Christiansen
Gainesville, Florida
48
Steven E. Bainaka
Carmel, Indiana
49
James D. Cunningham
Oakland Park, Florida
50
Mike Dunigan
Fort Worth, Texas
51
Richard Beleson
San Francisco, California
52
Ellie Richards
Jupiter, Florida
53
Cortney Lofton
Northridge, California
54
Robert Hawkins
Sebastian, Florida
55
Leonard Stidle
Gibsonia, Pennsylvania
56
Helen Ullian
Merritt Island, Florida
57
Linda Ullian Schmid
Knoxville, Tennessee
58
Darby Huntington
Longview, Washington
59
Jon Wilson
Valdosta, Georgia
60
Robert V. Burkhart
Peoria, Illinois
61
Joseph Bissell
La Jolla, California
62
Alan Siddons
Delray Beach, Florida
63
David Larned
Lufkin, Texas
64
Bruce Eistedt
Miami Springs, Florida
65
Thomas Snead
Clearwater, Florida
66
Jonah Martinez
Port St. Lucie, Florida
67
Richard Schemitsch
Tampa, Florida
68
Gregory Wilkison
Colleyville, Texas
69
Jean Wilkison
Colleyville, Texas
70
Ray Blakeney
Dartmouth, Nova Scotia
71
David Timmermann
Sarasota, Florida
72
Wes Bossard
Summerfield, Florida
73
Gerard D. Casale
Green Cove Springs, Florida
74
Robert Hoover
San Luis Obispo, California
75
William Blodgett
Danville, Pennsylvania
76
Barbara Kirk
Ponte Vedra Beach, Florida
77
Joe Stich
New Smyrna Beach, Florida
78
Bob Evans
Hopewell, Ohio
79
Captain Dan Kipnis
West Palm Beach, Florida
80
Richard Politano
Valrico, Florida
81
George R. LaPorte
Vero Beach, Florida
82
Jacqueline Hoover
Cocoa, Florida
83
Alex Orsolini
Marco Island, Florida
84
Barry Clifford
West Yarmouth, Massachusetts
85
Mel King
Denver, Colorado
86
James Mesher
Snohomish, Washington
87
Charles Frank
Valencia, California
88
Ray Mazzola
Chicago, Illinois
89
David Rinehart
Melbourne, Florida
90
Douglas Mudd
Colorado Springs, Colorado
91
Norman Spiwak
Orlando, Florida
92
Dann Jacobus
Vero Beach, Florida
93
William A. Black
Sebastian, Florida
94
Gary Simon
High Point, North Carolina
95
Don Kagin
Tiburon, California
96
Charles Donovan
Naples, Florida
97
John Esposito
Lancaster, California
98
Mark Miller
Kennesaw, Georgia
99
Kyle Kennedy
Tampa, Florida
100
Dan Porter
Ft. Pierce, Florida
101
Mark Parker
Sunrise, Florida
102
Steve Casanova
Indian Harbour Beach, Florida
103
Dale Justice
Vero Beach, Florida
104
Ray O'Shinski
Canonsburg, Pennsylvania
105
John Wagner
Jupiter, Florida
106
John Colby Bartlett
West Lafayette, Indiana
107
Steve Moorman
Palm City, Florida
108
Linda R. Geary
Stuart, Florida
109
H. Joanna Talley
Hobe Sound, Florida
110
Hugh Normile
Melbourne Beach, Florida
111
Bonnie Schubert
Vero Beach, Florida
112
Kenneth Gentile
Lombard, Illinois
113
Merwin Ullestad
Old Hickory, Tennessee
114
Trey Boe
The Woodlands, Texas
115
Chesley R. Houske
Rolling Hills Estates
, California
116
Juan J. Lopez
Tampa, Florida
117
Ricardo Lopez
Tampa, Florida
118
Larry Lavargna
Palm City, Florida
119
Tyler Maxson
Winter Garden, Florida
120
Jon Cymes
Melbourne Beach, Florida
121

Robert Lewis Knecht
Port St. Joe, Florida

122
Dan Scocozza
Longs, South Carolina
123
Stephen M. Workman
Melbourne, Florida
124
Sharon Waters
Baltimore, Maryland
125
Roberta R. Murray
Jensen Beach, Florida
126
Jennifer Stich
New Smyrna Beach, Florida
127
Jeff Sturgess
Eldersburg, Maryland
128
Marc Littleton
Melbourne, Florida
129
Justin Sherwood
Sweet Springs, Missouri
130
Torrey McLean
Cary, North Carolina
131
K. Edward Brown
Leominster, Massachusetts
132
Linda DeRose-Droubay
Banco, Virginia
133
Barbara Orler
Sebastian, Florida
134
Cody Drake
Clarkdale, Arizona
135
Lluis Lalana i Culla
Barcelona, Spain
136
Charlie Winn
New Smyrna Beach, Florida
137
Paul Styranovski
Cocoa Beach, Florida
138
Jebb Pittillo, Sr.
Sebastian, Florida
139
Sean Clare
Hermitage, Tennessee
140
David Shenne
Colden, New York
141
Laura Strolia
Woodridge, Illinois
142
Tom Strolia
Woodridge, Illinois
143
Michael Pasco
Carrollton, Georgia
144
Glen Gremillion
Locust Valley, New York
145
Jeremy Watherston
Nightcliff, NT, Australia
146
Hawk Levy
Port St. Lucie, Florida
147
Mark Worthington
Port St. Lucie, Florida
148
Erik van Ark
The Netherlands
149
Ivan Trent
Virginia Beach, Virginia
150
Bob Hurst
Vero Beach, Florida
151
Dreama Hurst
Vero Beach, Florida
152
Philip Ellsworth
Coeur d'Alene, Idaho
153
Chip Vitone
Stratford, Connecticut
154
Robert Westrick
New Iberia, Louisiana
155
Nichole Fisher Johanson
Sebastian, Florida
156
Michael Gonzalez
Austin, Texas
157
James Tyler
New Smyrna Beach, Florida
158
Natasha Tyler
New Smyrna Beach, Florida
159
Patrick McBride (a.k.a. Ben Franklin)
McKeesport, Pennsylvania
160
Florentina Ross
Vero Beach, Florida
161
Rob Barfield
Atlanta, Georgia
162
Brian Hosch
Atlanta, Georgia
163
Josh Scott
La Jolla, California
164
Gerald Bertekap
Melbourne, Florida
165
David vonFischer
Columbus, Ohio
166
Paul Knudsen
Holly Hill, Florida
167
Capt. Tim McAuliffe
Sebastian, Florida
168
Fred Banke
West Palm Beach, Florida
169
Stephanie Hudson
Greenboro, North Carolina
170
Mark Ross
Vero Beach, Florida
171
James A. Wilson
Fort Pierce, Florida
172
Michael Murray
Jensen Beach, Florida
173
Richard Firato
Morgan Hill, California
174
Diane Peck
Clermont, Florida
175
Karan Davenport
Adairsville, Georgia
176
Jamie Callender
Concord Township, Ohio
177
William Slat
Jensen Beach, Florida
178
Sean Scott
La Jolla, California
179
John Pritchett
Indianapolis, Indiana
180
Sean Rich
Carlsbad, California
181
Laura Rajavuori
Indialantic, Florida
182
John Farthing
McEwen, Tennessee
183
Matthew Puleo
Tampa, Florida
184
James Owens
Saint Augustine, Florida
185
Alexander Mendolia
Saint James, New York
186
Robert Kasicki
Archer, Florida
187
Peter Jones
Windham Center, Connecticut
188
Alexander Mendolia
Saint James, New York
189
Destiny Glaubitz
Silverdale, Washington
190
Jerry Burbaugh
New Smyrna Beach, Florida
191
Mike Judy
Lake Mary, Florida
192
Aaron Crossley
Clearwater, Florida
193
Robert Abberger
Tampa, Florida
194
Adam Crum
Torrance, California
195
Stephen Wall
Rincon, Georgia
196
Clint Serafin
Vero Beach, Florida
197
Jody Coscia
Lakeland, Florida