Hi Fleet Society Members, this is Craig, web admin, here. Ben asked me to post a quick note about Fleet Society analytics, which this post includes, along with some additional information about recent updates with on-site content.
1715 Fleet Society Web Analytics
The number of visitors viewing the site through the first five months of 2021 has increased 93% over the same time period last year with more than 8,000 unique visitors viewing the site.

The number of pages viewed has increased to more than 25,000 pages over the same time period for an increase of more than 43% year over year.
We also increased the percentage of returning users by 1% year over year, which might not sound like much at first glance, but it means that 1 in every 7 visitors to the site returns to view it again. That's more than 1,300 visitors who view the site every month all year long in addition to the thousands of new visitors who find us in search.
The 1715 Fleet Society is a site that has generated interest worldwide.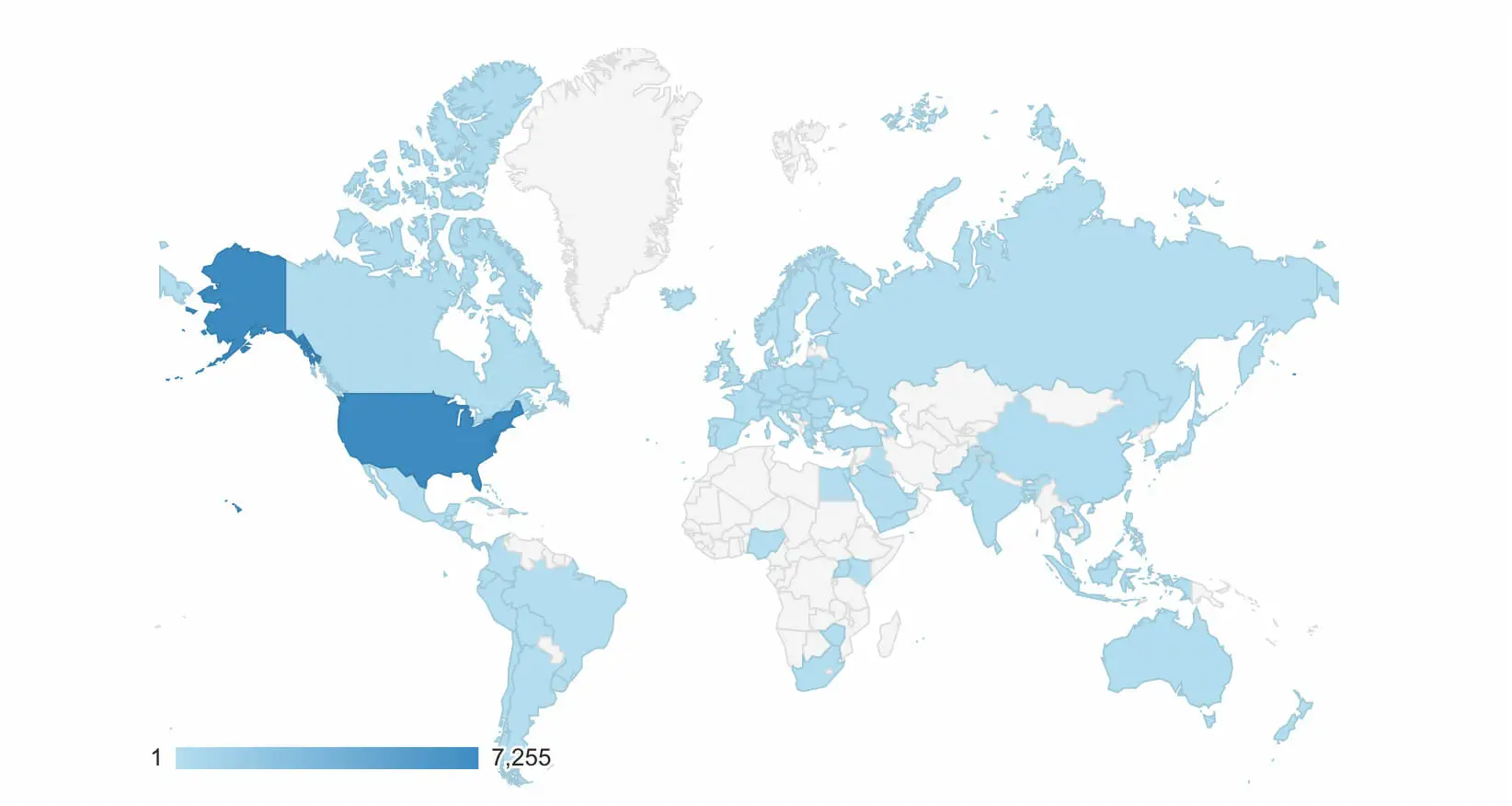 We have visitors on 6 continents, with the most traffic coming from the Americas and Europe. In all, the 1715 Fleet Society is read in 95 countries. Among the top browsing countries are:
United States
Canada
United Kingdom
Australia
Germany
Spain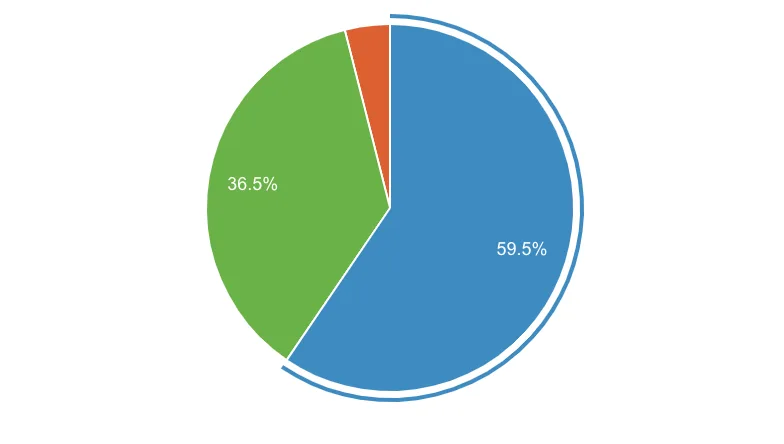 Changes made in theme, design, content, and code have allowed mobile browsing to be a much more pleasant experience on the site. When we relaunched the 1715 Fleet Society more than 6 years ago, there was virtually no mobile traffic to the site. Today, mobile traffic accounts for the majority of web visits, with 63.5% of the site traffic coming from smartphones or tablets (blue and orange in the chart above) and 36.5% coming from desktop browsers (green).
1715 Fleet Society Content Updates
We made a few content changes that affect site load time and site search. Most of these happen behind the scenes and speed up the site without you noticing anything or needing to do anything while browsing. Those changes take advantage of the latest web technology and help the site run faster across all browsers and make the user experience on the site more seamless.
We made two significant content functionality changes.
1715 Fleet Society Newsletter Archives
The first is the search and filter bar on the news and archive sections of the site has been upgraded to allow the viewer to select multiple categories of posts to view. There are now check boxes that allow the viewer to select one or more categories of posts to view. With more than 700 posts on the 1715 Fleet Society website, the viewer can create a list of multiple types of news to view without reloading the page.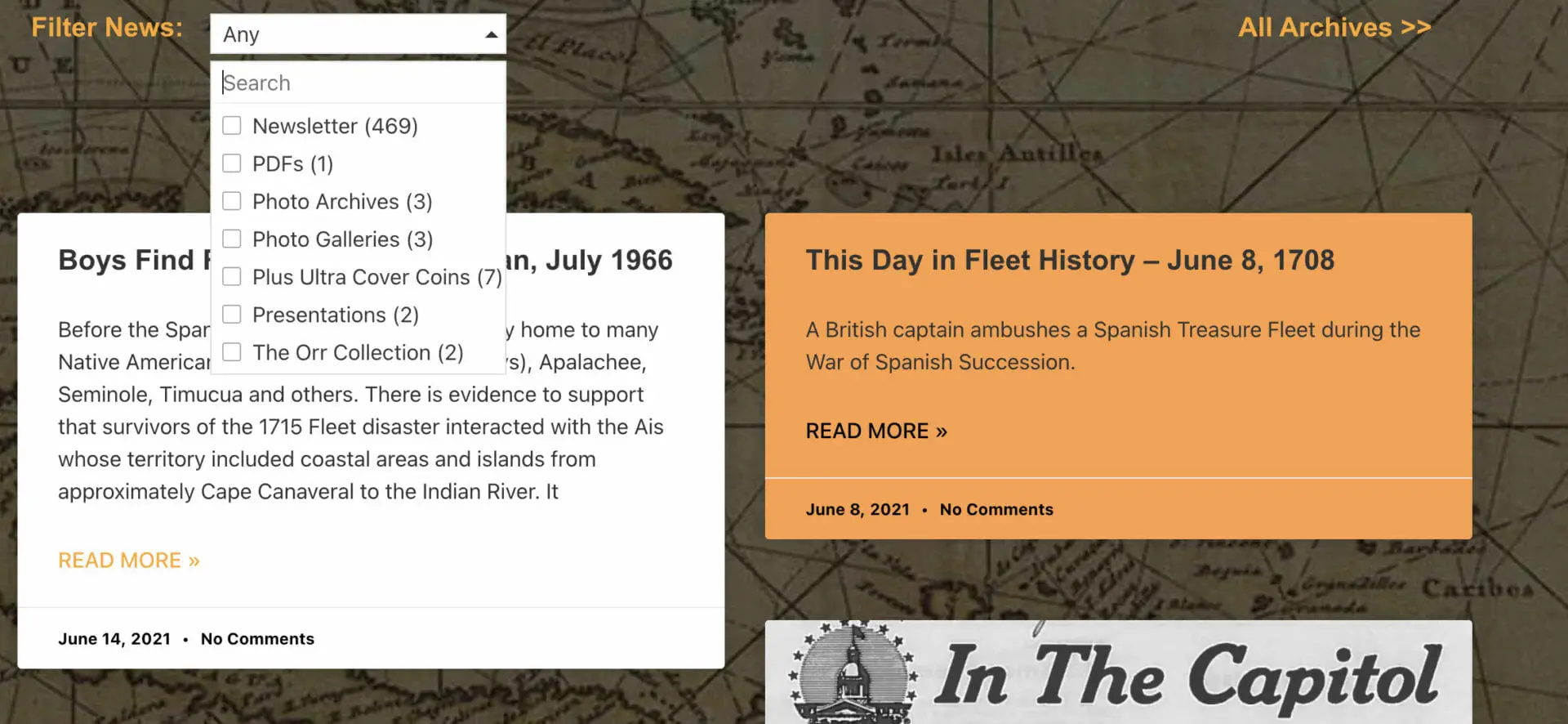 You can click the checkbox for any category and it will be included in the view. You can also type to search categories to filter the list just to your custom selection. Once the selection is made, the page automatically refilters the selected content without reloading. This is a much faster and more user-centric method of filtering posts, and it works well on mobile devices also.
1715 Fleet Society Gold Cobs
The Florida Cobs collection was previously accessed over 3 groups, with each group separated onto a different page. It was done this way because loading nearly 1,500 coin images on a single web page was slow and cumbersome and did not provide the best viewing experience. New web technologies allow us to load them all on a single page without degrading the viewing experience or web load speed, so that content has been consolidated into one area. All 1,400+ coins are now accessible from a single Gold Cob Collection page which has separate pagination at the bottom just for coins.
Clicking on any coin takes you to a dedicated page showing a featured image in high resolution and the coin number. You can also navigate independently from this view, coin by coin, using the navigation arrows at the bottom of each individual coin page. Of course, with nearly 1,500 coins, this can take quite a while to browse. Keep in mind, each individual coin page has a URL that matches the coin number, so you can navigate to individual coins using their coin number too. For example, coin number 11-01768 can be found directly by inputting the following URL into your browser: https://1715fleetsociety.com/mexico-coins/11-01768. Note the coin number at the end of the URL. Simply change that number to the coin number you want to view and it will change the page automatically.
If you have any questions or if there are additional features you'd like to see on the site, please drop us a note in the comments.
Thanks!
Craig
Web Admin, 1715 Fleet Society