Our Treasure of the Month for August is this group of coins and artifacts recently liberated from Neptune's grasp in late June 2019. The "liberator" of these items was none other than Eric Schmitt, a well-known diver, credited with finding the famed "Tricentennial Royal" in June 2015. This particular coin was featured as our Treasure of the Month in August 2015.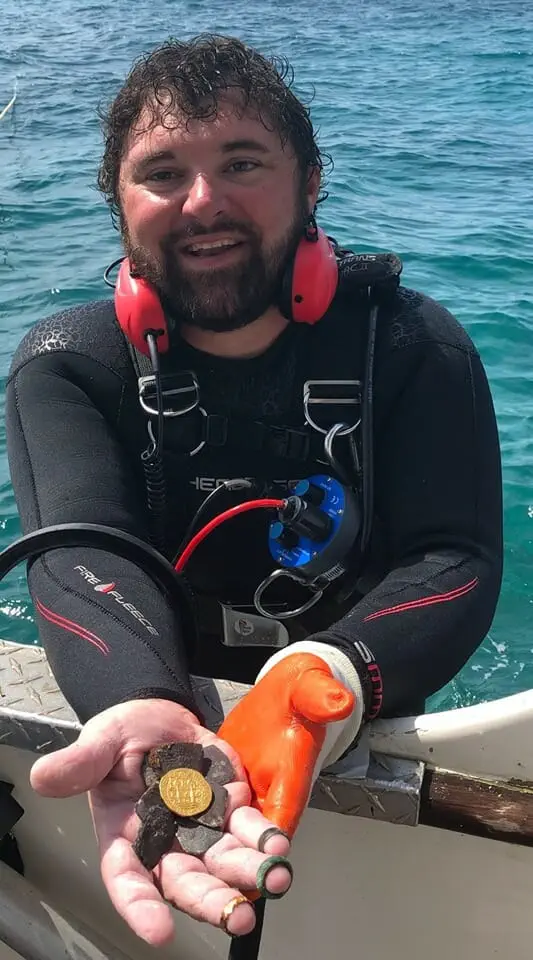 This month's treasure includes a beautiful Lima eight escudos dated (1)708. In addition a number of silver eight reales coins and several smaller silver coins were also found. To round off this little cache are two low carat and two high carat rings. Not only are the finds excellent on their own, but hopefully their recovery location will add to our knowledge of the breakup and scatter of the highly dispersed 1715 fleet Douglas Beach wreck site where these items were found.
Special thanks to Fleet Society member Jonah Martinez (#66) for providing this information for this post.
Photos Courtesy of Eric Schmitt.