August's Treasure of the Month is a Mexico eight reales coin along with a small Treasure Salvors certificate which was brought to our attention by Fleet Society Advisory Board member Charlie Winn. Charlie's role on the Advisory Board is to research 1715 Fleet coinage in an effort to establish lost pedigree and provenance. In this instance, he came up with a very interesting find regarding, not the coin, but the accompanying certificate. He sent the following commentary:
"The small Treasure Salvors certificates are well known to 1715 Fleet collectors. Most are signed by Mel Fisher himself in what Nichole Johanson (Mel's Granddaughter) described as 'My grandfather's famous red pen'. I've seen other names on these certificates, even one signed by Rupert Gates, one of Mel Fisher's colleagues, but rarely do you see one signed by Mel's wife, Delores E. Fisher. I have only seen three Treasure Salvor certificates signed by both Mel Fisher and his wife Delores. There is one identical to this one and one signed in blue ink dated March 22, 1976, with a different address, 100 Margaret Street, Key West (as opposed to the Vero Beach address which is shown on our Treasure of the Month). This is a rare and important certificate."
This is not the first time that we have featured rare and unusual certificates of authenticity. See our Treasure of the Month for February 2014 (here) and February 2019 (here). Also, see The Guide to the Official Certificates of Authenticity published in 2020 by Robert Westrick to learn more about the evolution of various certificates of authenticity issued by individuals and salvage companies throughout the years.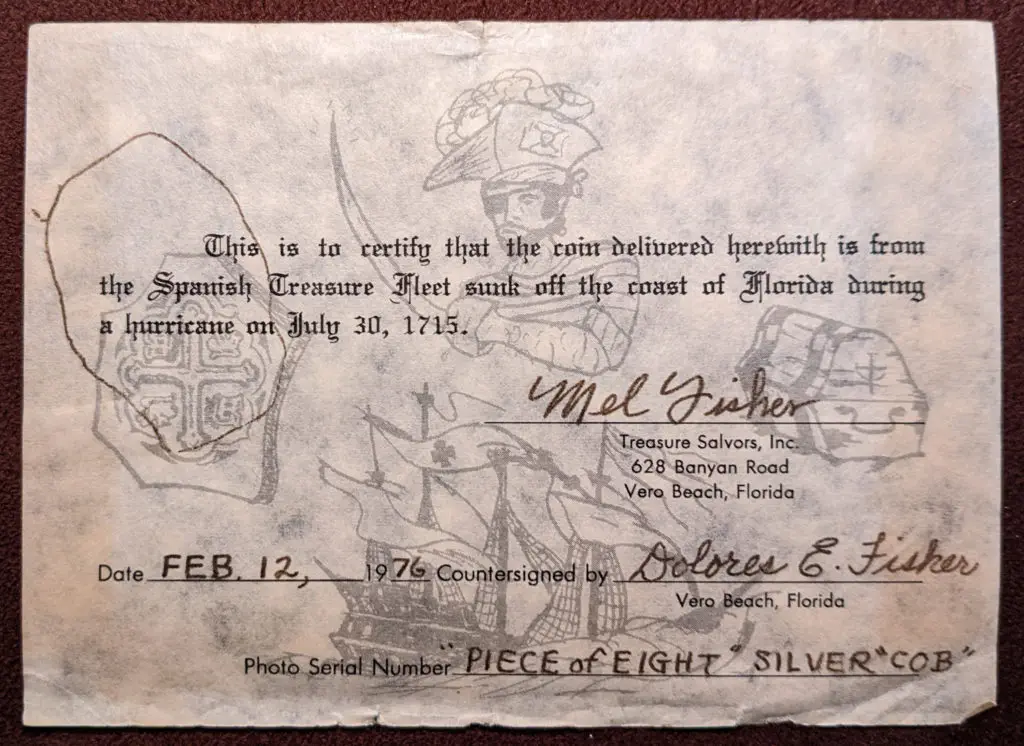 Special thanks to Advisory Board member Charlie Winn for providing the information used in this text.