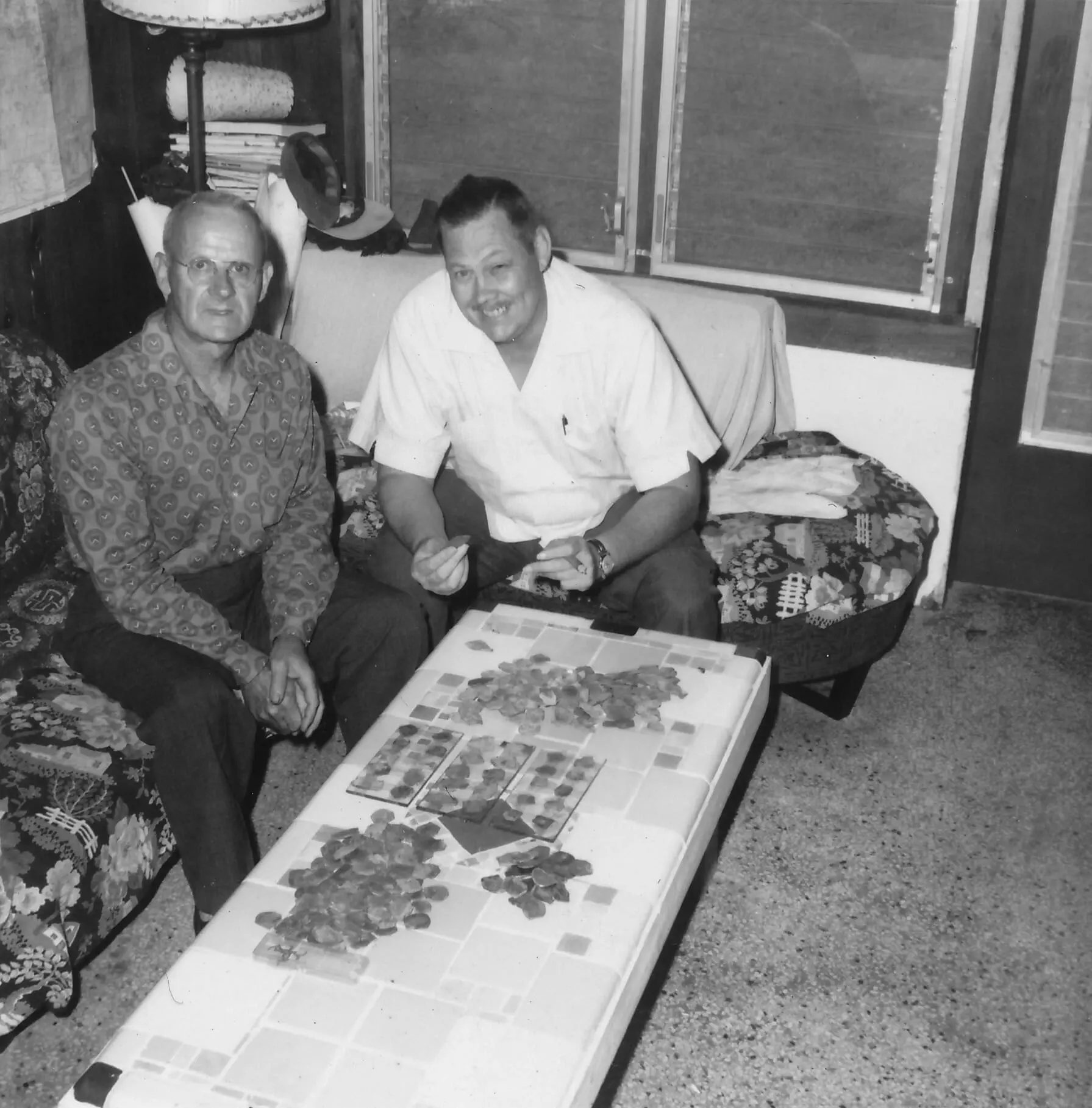 My wife, June, and I owned the Cabin Wreck for over 30 years from June, 1990 to November, 2020. During those years we were super fortunate to experience a number of outstanding treasure finds that we were either part of or associated with.
One story involves Bob Weller's recovery on July 3, 1993 of what many believe to be the "Queen's Jewels". My wife, June and I were planning on going up to Orlando that day until I heard Bob calling me on my VHF (which was left on all the time while he was diving). He was anchored in front of the Cabin Wreck about 200 feet off shore, an easy swim. He suggested I might want to come out to join him. While pretty cool on the VHF, I could tell something was up when he said it would, "…definitely be worth it to join him on board". I mentioned I was about to head up to Orlando but he again stressed the swim would be worth it. I told June something's up and Bob had urged me to join him. Being a good sport and knowing the vagaries of treasure hunting, she agreed we could do Orlando another day.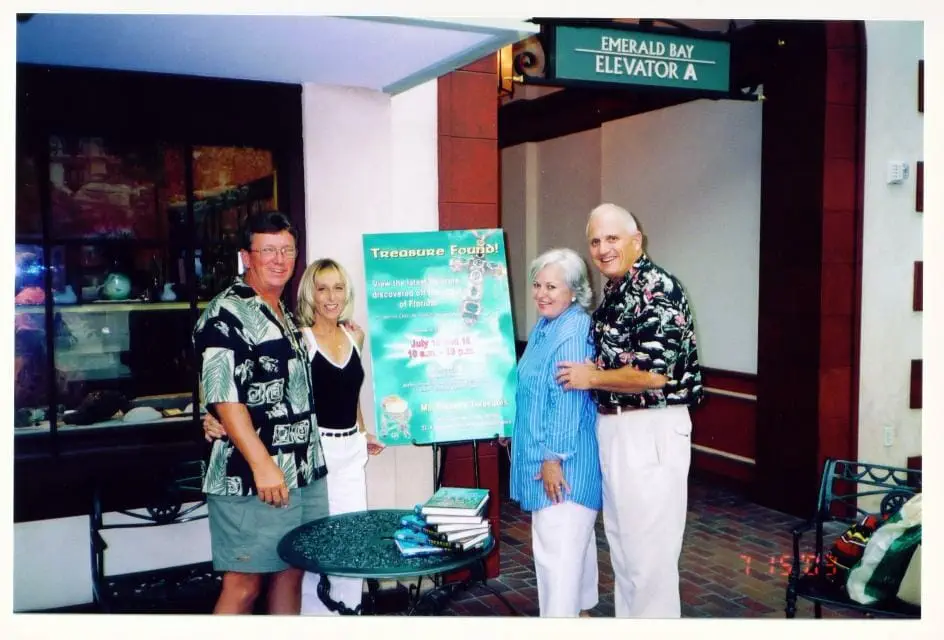 I swam out to the Pandion in minimal surf and was heartily welcomed aboard by Bob and the crew. He held in one hand the gorgeous gold "butterfly" broach studded with sparkling diamonds and didn't say a word! His other hand held another rounded broach also studded with diamonds! I just looked at the beautiful filigree work in wonderment and said something like Holy S….! Bob then explained that they also had found one ear ring in the shape of a pineapple, also loaded with diamonds, with a thin gold harp that was not even bent after having been in the sand and surf for over 278 years. (Its mate was found several days later also in superb condition, also with an unbent harp…a perfect match)!
Bob, his crew, and wife, Margaret, (a diver in her own right) were having an incredible day! Their find was extraordinary and their excitement over the top. After things died down, he asked a favor: "Would I go over to Sembler's dock in Sebastian where they kept the Pandion and run "interference " for him to set up a press conference and film it with my own camera"? I quickly agreed and said I'd be over at the dock in two hours giving him time to weigh anchor and head back through the Sebastian Inlet to the dock.
Upon arrival at Sembler's, it was mass confusion with the press and TV trucks up and down Indian River Drive. By this time, the word had gotten out throughout the salvage community and locals who were swarming the docks to see what Weller had found. Once secured at the dock, he laid out on the Pandion's cockpit engine cover all the booty…and it was dramatic and dazzling.  It was impossible for me to keep order and film at the same time so I just concentrated on filming while Bob's crew kept the crowd off the boat. The ooohs and aaaahs were voluminous and made for the end of a perfect diving day for the Wellers and their crew!
I later donated the video clip to the McClarty Museum where it's now included in the museum's film on the 1715 Fleet and the history of how items were recovered. It's part of an excellent historical film in their standing exhibit about the Fleet.
That Fall, we had dinner at the Weller's home with Ernie and Ellie Richards in West Palm Beach where Bob invited June to try on the "pineapple" earrings. She did so with not a little trepidation and excitement to wear something so gorgeous and a piece of history meant for a queen! However, the weight of the gold and diamonds (53 in each) were so heavy she remarked that, if worn for any length of time, they would stretch her earlobes like an African tribesman!
Another involves Capt. Jon Wilson's recovery of the beautiful gold box with the two rings and long gold chain and cross with six stunning emeralds.  Jon and his lovely wife, Michelle, were long time friends who lived just a few houses north of us. On June 1, 2003 we were preparing to go to Orlando to celebrate June's birthday with all the family and the visiting grandkids. That morning I walked outside to the beach with my 2-year-old grandson, Sebastian, in my armsInsignia of a family or country, containing specific figures and colors and passed along through hereditary lineage..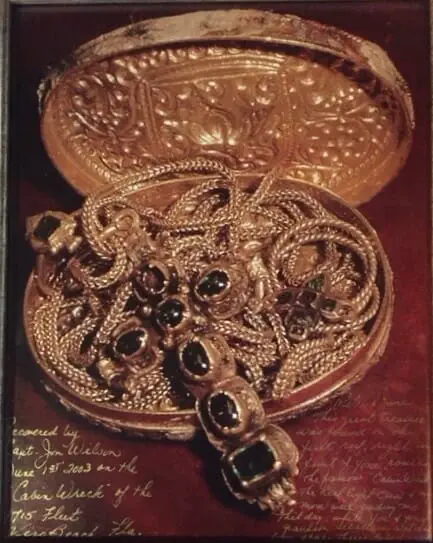 Jon and his diving buddy, Clyde Kunz, were in waist deep water aside their dive boat no more than 50 feet offshore right in front of the Cabin Wreck. It was the first 15 minutes of the first day of the diving season-that being determined by the wind and waves having died down. Until that day the weather had been too snotty to dive. Standing in water covering my ankles, I yelled to him; "Hey, Jon, find anything?" He nodded his head towards the three other dive boats nearby. I knew what THAT meant so I said I was headed up to Orlando and he energetically said. "Call me when you get back."
Returning late that afternoon we passed over the Sebastian Inlet Bridge and by Jon's house.  A1A was packed with a host of mobile TV news trucks with their telescopic antennas reaching for the sky. Something was up and we knew it was BIG!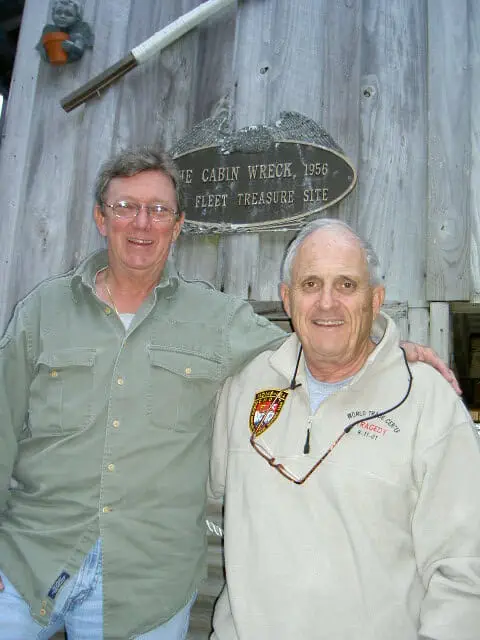 I called Jon immediately after getting back to the Cabin Wreck. His wife, Michelle, answered and said he couldn't talk because he was in the middle of an interview with CNN. She promised he'd call back as soon as possible but excitedly said he had "hit it big".  When he did call back he described what he and Clyde had found. It was the biggest treasure in years recovered from the Cabin Wreck site. With pure excitement in his voice he gave me the details. Later that night, we watched the interview on several stations where Jon described how he'd recently scattered his mother's ashes along the ocean in front of his house. As he did so, a small rainbow appeared that ran from his house to the Cabin Wreck! He remembers praying to his mom to bring him good luck…and she sure did!
Neither Jon nor my wife and family will ever forget that memorable day!