Here are several pictures of our table at the Fun Show here in sunny (but COLD!) Tampa, Florida.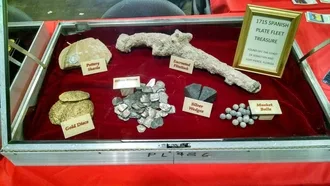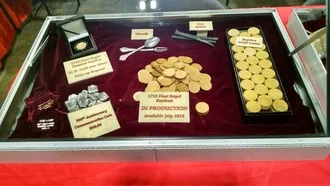 This year, we were located on the bourse floor rather than in the club section.  This allowed us to get more foot traffic and exposure. We did have a number of new visitors who enjoyed our modest display (a scaled down version from our prior shows) as well as some 1715 Fleet related art tiles created by Warren Clark of History Illustrations, St. Augustine, Florida.  The art tiles were sold by us in addition to some replica items.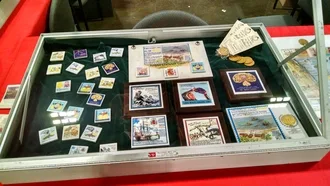 Today we had the annual meeting of the Sunken Treasure Book Club here at the Convention. About 15 people attended the meeting.  I gave a brief presentation about Fleet Society accomplishments in 2017 and what we have planned for this year. Following my presentation, each person in attendance gave a short personal update on news that would be of interest to those present.
Last night was the yearly dinner meeting of the Sunken Treasure Book Club, which was held at the Columbia Café in Tampa.  About 20 people attended the dinner, which was hosted by Dave Crooks of Chicago.  In attendance was ANA Governor Thomas Uram of Pennsylvania, Fleet Society members John Pullin of Santa Fe, New Mexico, Steve and Linda Hodges of Vero Beach, Florida, Jorge Proctor of Overland Park, Florida, Mike Brown of Albany, Georgia, Allen and Sandy Sadwin of Wantagh, New York, and yours truly.
The Show wraps upon Sunday, January 7. After that I will be heading to Vero Beach to do some research on recent materials that were acquired by the Society. More about that in a future post.
Submitted by Ben Costello, Director.