Thursday was a special day as long-time Fleet enthusiast Frank Noga (member #1), from Eastlake Ohio, paid a visit to the Show. Frank, known as "Mr. 1715" to his friends, was one of my very first contacts in the 1715 Fleet community. Frank was collecting Fleet-related coins, artifacts, and books long before most people became interested in Fleet collectibles. He was, and still is, very generous with his time and mentors many young numismatists who express an interest in the coins of the 1715 Fleet. He truly is a good and great friend. Below is an image of Frank with Dan Sedwick (member #2) and Augi Garcia (member #3) of Daniel Frank Sedwick, LLC. It is not often that I can get a picture of the first three members of the Fleet Society all in the same place.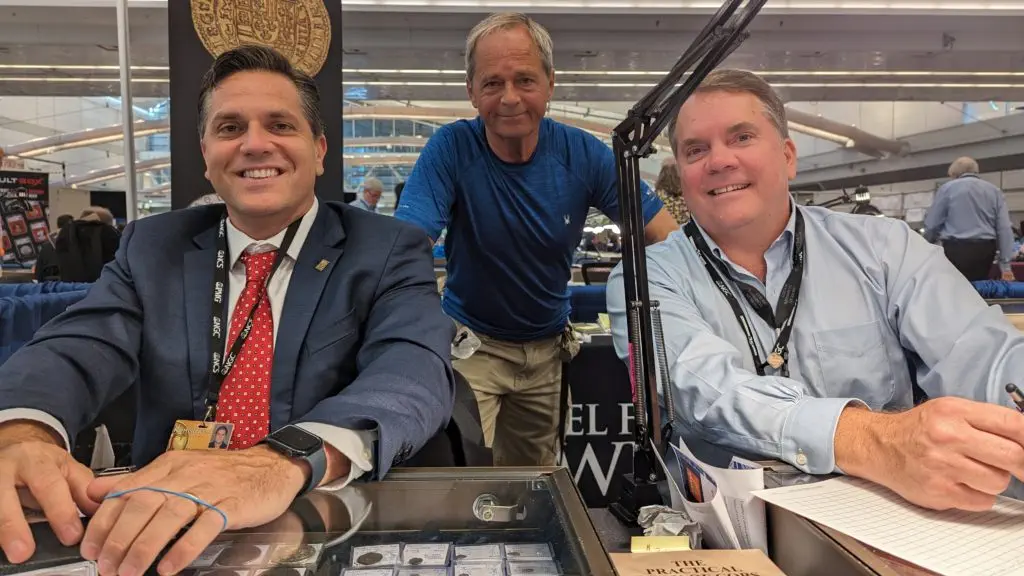 I neglected to mention that over the last several days I have been palling around with Bob Evans (member # 78). Bob, as most of you know, was the Chief Scientist on the SS Central America (SSCA) project. Bob was with the project since the mid-80s and perhaps is the single most knowledgeable person alive regarding the history of the SSCA, its coinage and artifacts, and to a large extent, its passengers. He is fascinating to be with and I always learn something new about the SSCA.
On Friday I attended a meeting of the American Numismatic Association (ANA) Executive Board and a follow-up Open Board meeting. I was recently appointed to the position of Parliamentarian by the incoming president and Fleet Society member Tom Uram (member #23). My new position will allow me to make new friends and educate even more people about the 1715 Fleet Society, our mission, and our goals. I am very excited to be a part of the ANA at this level. I am hoping to enter into new partnerships with other groups which will give the Society more exposure.
My final day at the Worlds Fair of Money will be tomorrow. I will file a final wrap-up report then.
Ben Costello
President, 1715 Fleet Society