As we begin a new decade our hope is for success and prosperity in the coming years. For centuries gold has been equated with success and prosperity. Gold has also been memorialized in the lexicon by such phrases as "Good as gold", "Heart of gold",  "Worth its weight in gold" and so on. Therefore, we thought it fitting to inaugurate the new decade by featuring gold as our Treasure of the Month for January.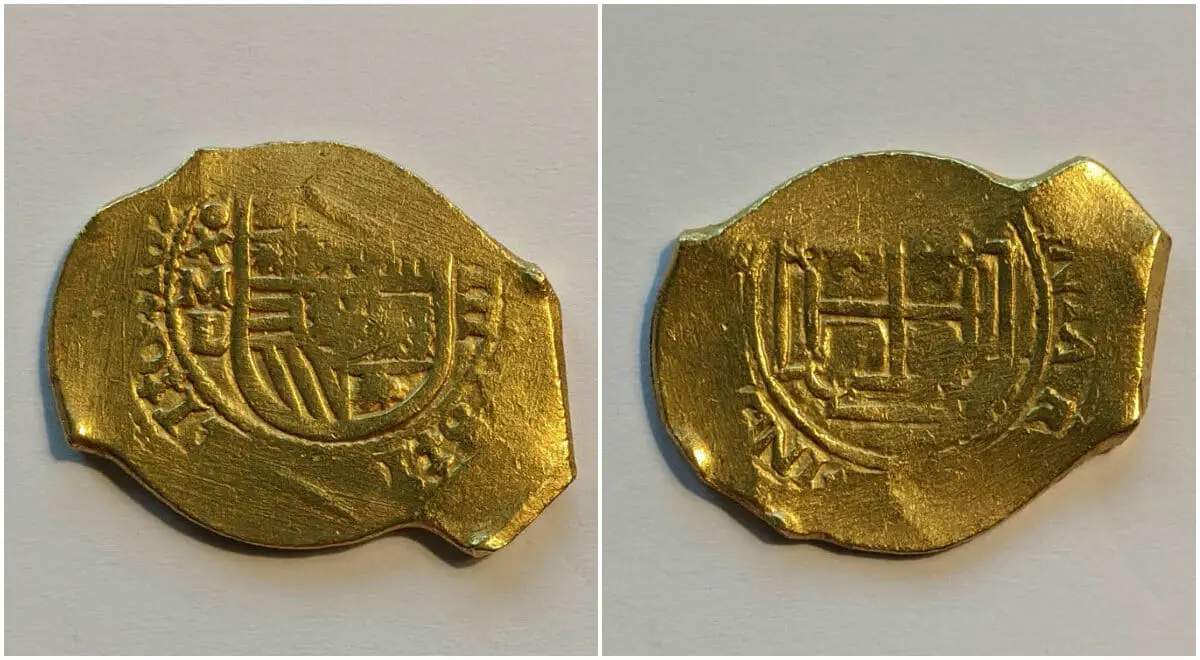 Our spotlight is on this Mexico eight escudos gold coin (cob) from the reign of Charles II. A deep yellow gold, this specimen weighs 26.8 grams and is partially dated (169x). The most unusual characteristic of this coin is its odd shape. While odd shapes are not all that uncommon in eight escudos coinage from the era of Charles II, this piece seems unusually so.
Most collectors of these coins covet "dated" pieces. While our example is indeed "dated" it is missing a key numeral…the last one. So, we know that the coin was indeed produced in the 1690's but we do not know the exact year. Without the essential last digit we contacted Fleet Society Director (and Educational Coordinator) Phil Fleming for a possible answer. Highly educated in coins of this era and well versed in gold cobs in general, we asked Phil if he could answer this key question by examining other characteristics of the coin which might provide a clue to the mystery missing digit. Here is what his research uncovered:
"First, I looked for a die match that might help identify the date. I could find no die match with any dated piece or, for that matter, with any undated pieces. Next, I looked at the style of cross, which we call the Plain Cross. Plain crosses appeared on Mexican 8 escudos in 1695 and last until 1699. That meant our 169X onza was struck 1695-99.  On the obverse, the strike showed none of the crown, which could have dated it, and the detail on the shield was poor. By overall style I was first able to eliminate 1695 and 1696 as possible matches. Two 1697's are known with good detail. They also are not a good match for this coin. The "L" punch in particular is quite different. That leaves 1698 and 1699. Most of the 1699's are overdate 1699/8. The punches on the 1698's and this coin seem to be the same and what we can identify on the shield seems to be the same as well. I conclude that this coin is probably a 1698 rather than a 1699 because the punches are in better shape than on the re-used dies of 1699/8. Mind you this conclusion is based on stylistic judgments and a process of elimination. It is a reasonable conclusion but does not take the place of a solid die match with a dated coin."
This coin also has a rather interesting provenance. While it undoubtedly originates from the 1715 Fleet, our research has uncovered that this coin also has the distinction of having been in three separate auctions in a thirty-five year period.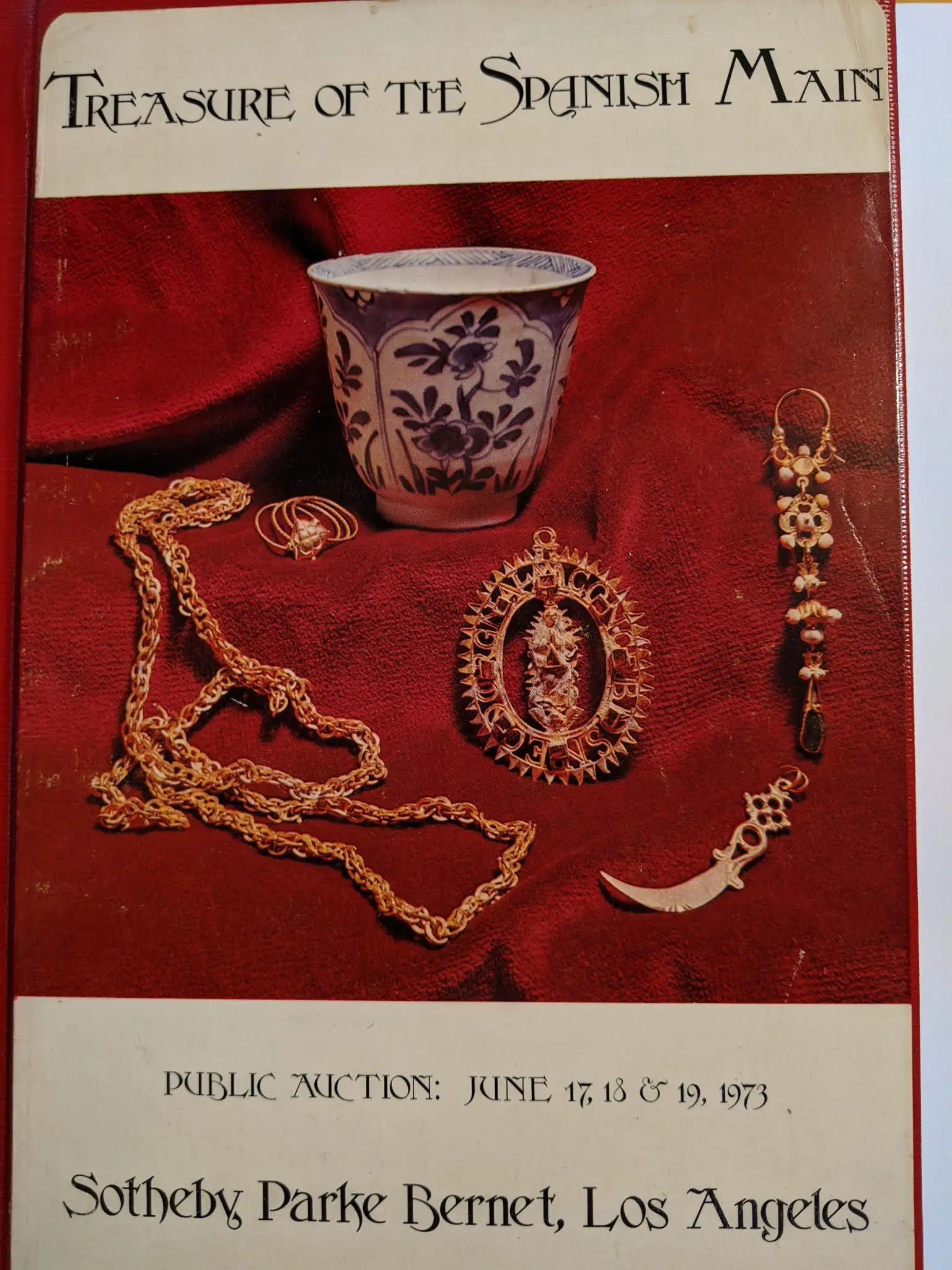 In  June 1973, this coin was featured as Lot#16 in the Sotheby Parke Bernet, "Treasure of the Spanish Main" public auction (Los Angeles, California).  However, it did not sell. Perhaps its odd shape was too unconventional for collectors seeking more traditional acquisitions. Of note was the fact that the coin was misidentified in the catalogue as a Charles II eight escudo, circa 1700-1710. Clearly the coin exhibits a three digit date from the 1690's.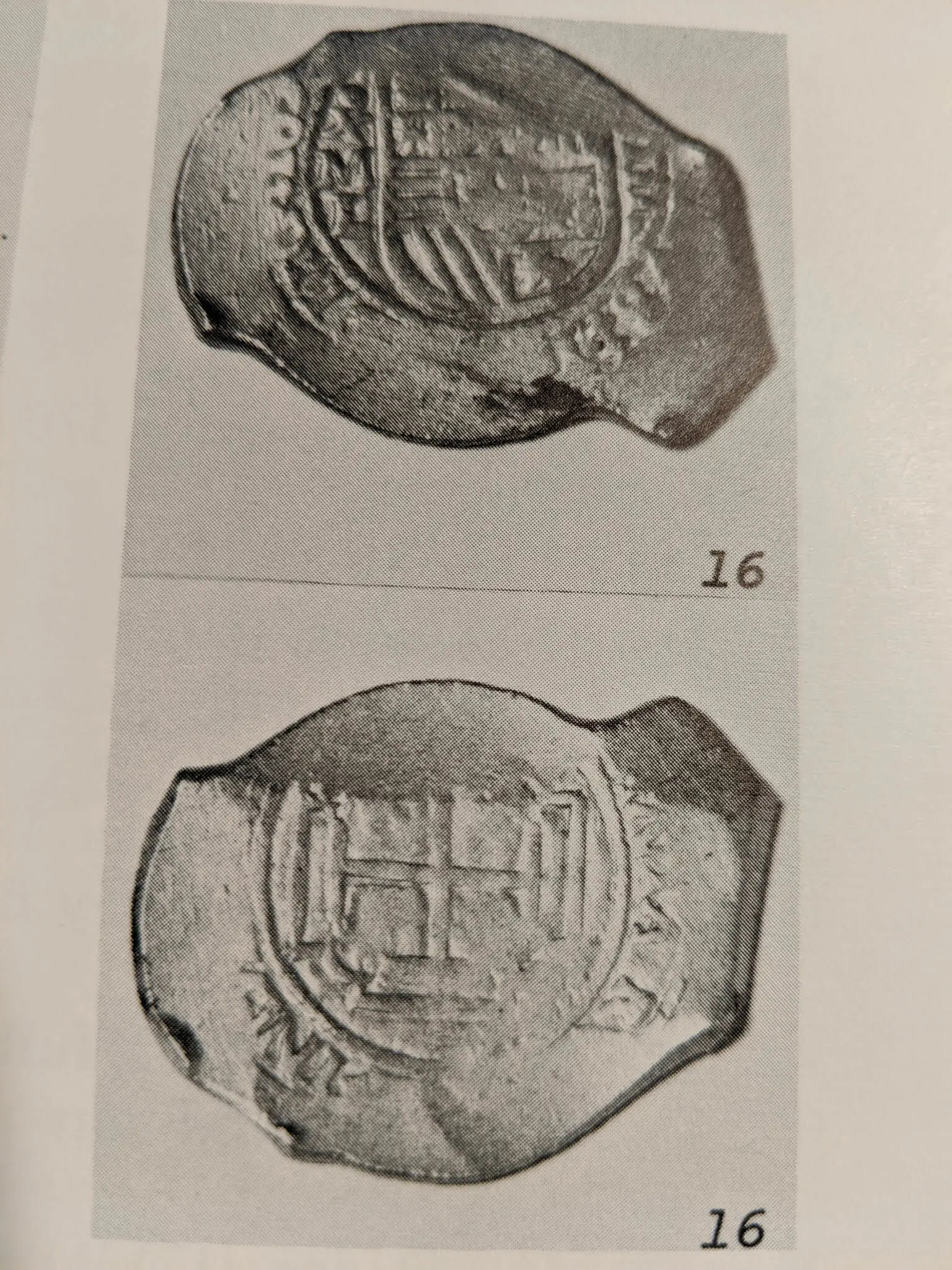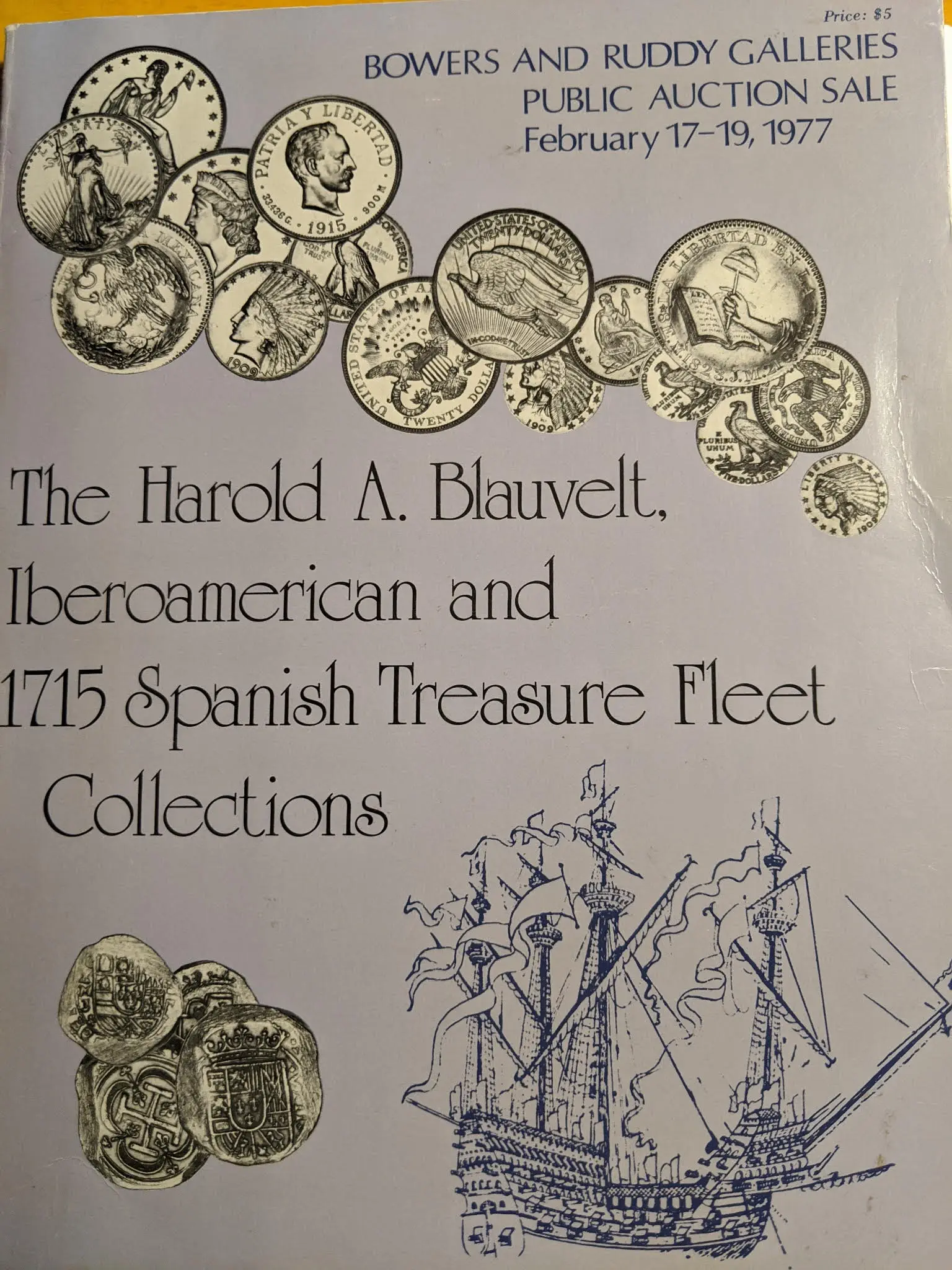 In February 1977 the coin reappeared as Lot# 5001 in the Bowers and Ruddy Sale (Long Beach, California). This time it managed to sell for $1300.00. Notice that the coin's reverse was not properly oriented. The reverse is actually upside down.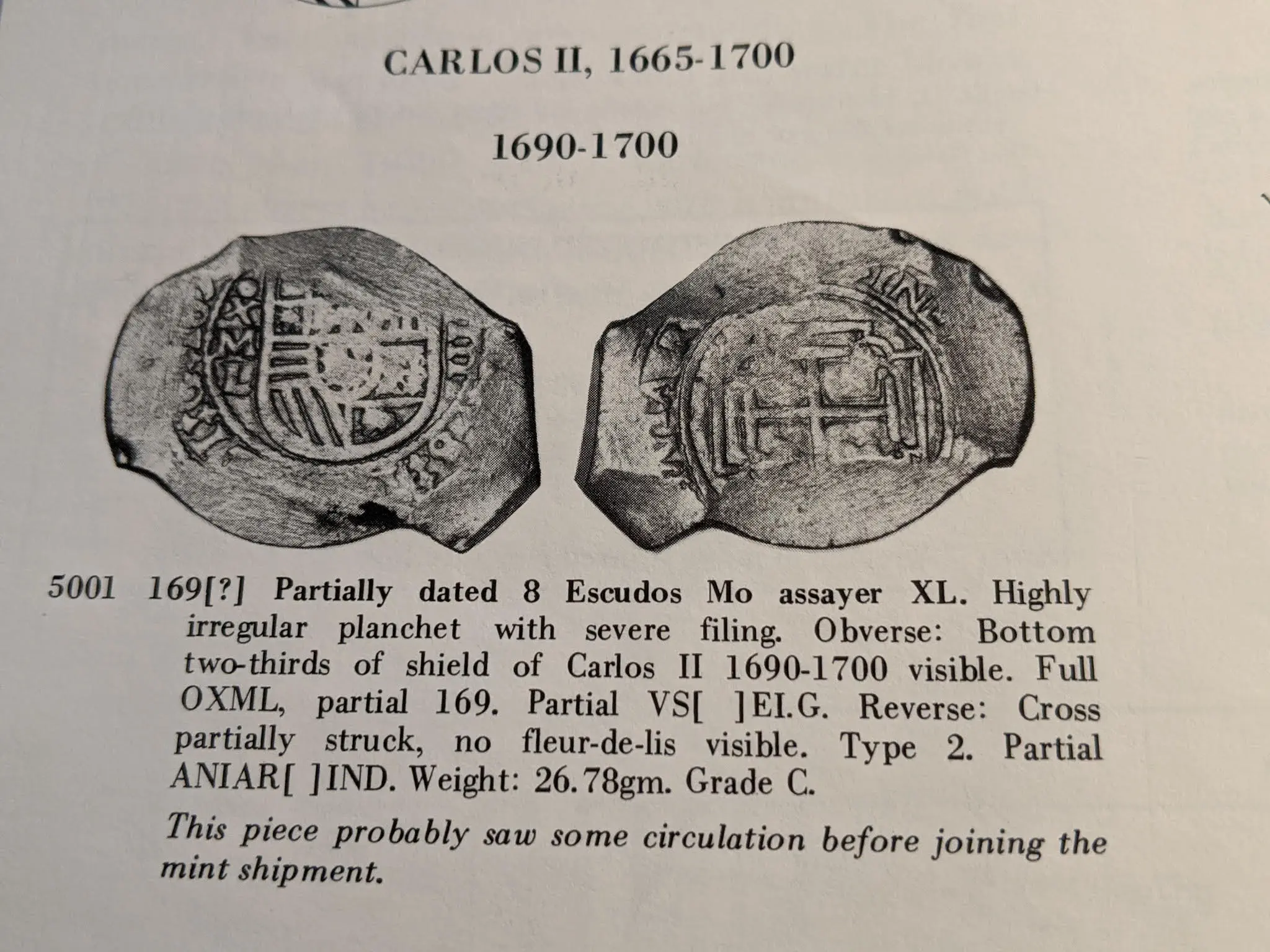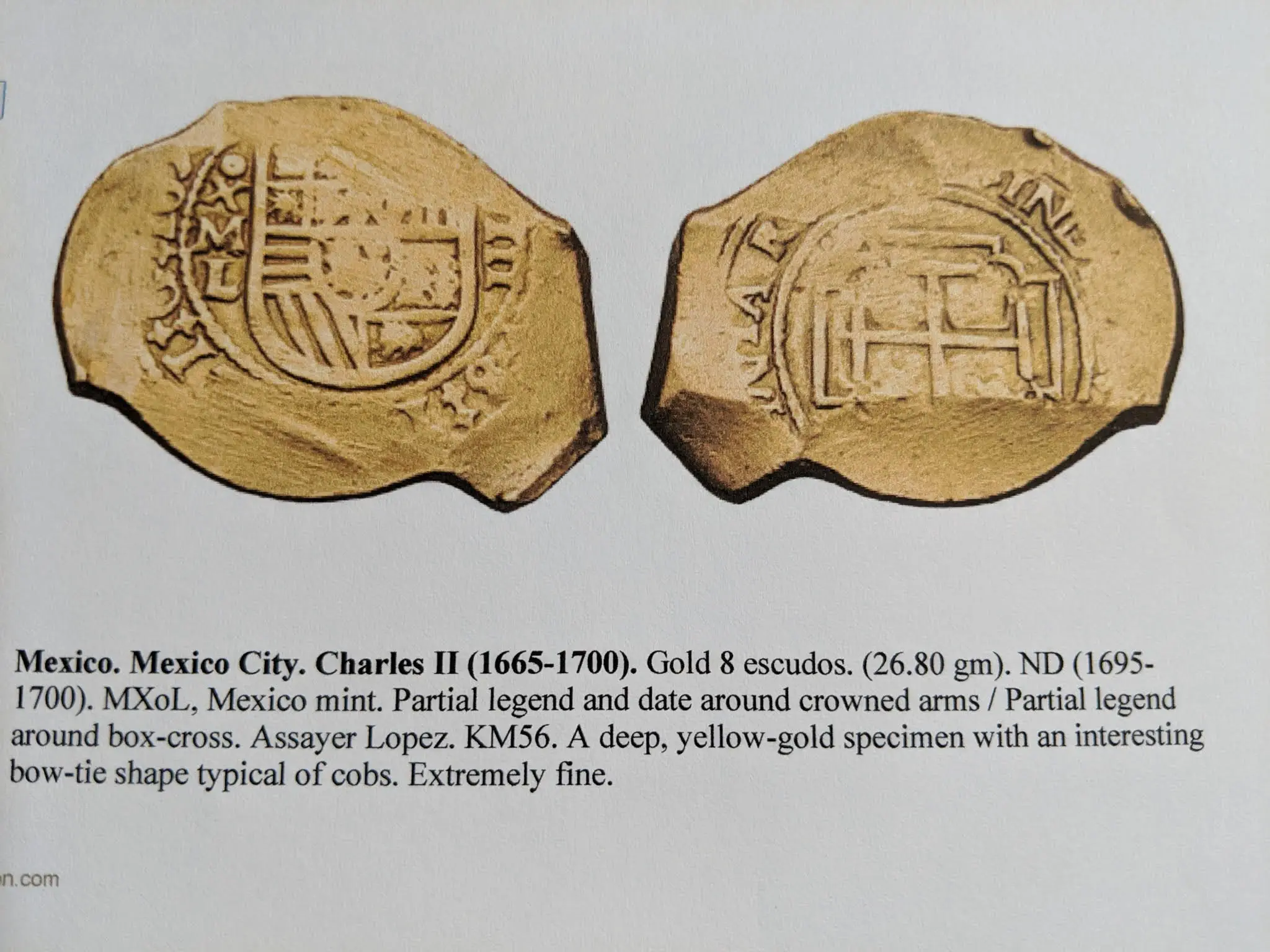 This gold piece made its final appearance as Lot# 582 in the January 2008 Gemini IV Sale (New York, New York). It sold for $8,000.00. Again, the coin is not properly oriented.
With time, the eight escudos from the Charles II era will continue to grow in value regardless of shape. The example that we have illustrated here, while unusual in shape, is still a very rare and highly prized coin from a very rare and highly prized series of Charles II.