For this month's featured treasure we go back in time three years to July, 2015 and the Commemoration of the 300th Anniversary of the loss of the 1715 Fleet (July 30-31, 2015).
During the week leading up to the anniversary, there was another historic event occurring.  A few miles north of Vero Beach at a location known as Corrigan's Beach wreckA 1715 Fleet wreck site located 5 miles north of the Vero Beach city limits. The site is referred to as the "Corrigan's Beach Wreck" because the beach was once owned by Hugh Corrigan. It has bee... More site divers were recovering over 302 gold coins.  All of this occurred 300 years to the day after the loss occurred (see our featured treasure for September, 2015).
In these images, we see small neatly stacked gold coins which were part of the "Anniversary Hoard" recovered in July 2015.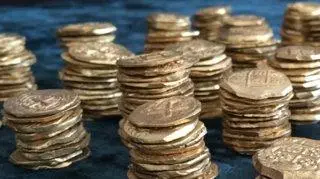 The recovery of these coins, which coincided with the 300th Anniversary of the loss, is truly one of the great ironies of history.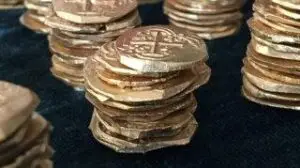 Special thanks to Fleet Society member Jonah Martinez who provided these images.  Jonah was also the Captain of the Capitana which was the recovery vessel.