Our Treasure of the Month for June is this denomination set of Mexico City, Mexico, 8-4-2-1 silver reales, housed in a 8 ¾ " x 3 ½" promotional wooden box. The box, made of walnut, has a large antique colored brass plaque on the front which reads:
"Original Silver Cob Coins Recovered from the Spanish Treasure Fleet sunk during a hurricane in 1715 off Florida's east coast".
Originally, these boxes came with a Certificate of Authenticity (COA) from WORLD TREASURE SOCIETY: Douglas S. Schneible, Director, Montpelier Vermont. Each box had a velvet lined interior with circular slots to hold each one of the four coins. It is believed that these boxes were made circa 1977.
These items do not often appear in the market place. The last one to come to auction was in Sedwick Treasure Auction 17, April 2015 (as Lot# 542).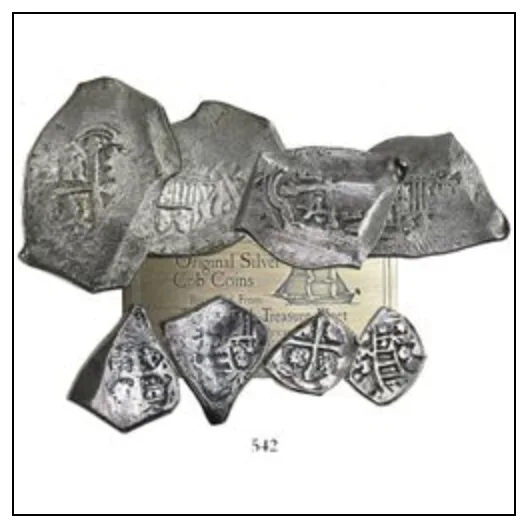 Occasionally, one will show up on Ebay. How many of these unique "Treasure Boxes" exist is not known. It is clear however, that obtaining one of these would be a welcome addition to any collection.
Special thanks to Daniel Frank Sedwick, LLC for providing text and images for this post.