Our Treasure of the Month for March is this bowlful of eight reales recently purchased from the Bruce Ward Estate.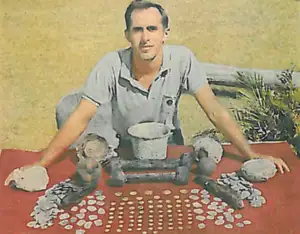 These reales are all uncleaned, encrusted and have that "fresh from the sea" appearance. Some are fused together into two and three coin "clumps". The plate (or as I call it a bowl) is pewter and, oddly enough, is from another wreck that occurred in 1751 (that's correct, 1751, not 1715). But it serves as a nice backdrop to these coins that are attributed to Bruce Ward. It should be noted that he played a very important role in the history of the Real Eight CompanyAlso referred to occasionally as "The Real 8 Company"- was incorporated in 1961. It had eight members….Kip Wagner, Kip Kelso, Dan Thompson, Harry Cannon, Lou Ullian, Del Long, Erv Taylor and Lis... More. For more information in this regard, see Kip Wagner's book Pieces of Eight, E.P. Dutton, Boston,1966 pps. 144 – 161.
What follows is an article written by professional marine archaeologist Rob Westrick that appeared in the Fall 2019 edition of his publication  Maritimes.

I only recently learned about the passing of Bruce Ward from the 1715 Fleet Society's website.  This came a quite a surprise as I had just assumed Mr. Ward had passed away years ago.  I was well aware of his early involvement with the 1715 Fleet.  Ward, Don Neiman and Frank Allen had played a pivotal role in the discovery of the Colored Beach Wreck.  In Finding the Fleet (2015) and later Don Neiman's biography, A Tale of Two Forts, (2018), I stated that Neiman was the last surviving member of the trio.  Although erroneous at the time, that is now a true statement.
I knew that Frank Allen was deceased, but Bruce Ward just sort of dropped off the radar.  In this business, where everybody seems to know everybody else, not many things go unnoticed.  Indeed, it is a small close-knit bunch and when a treasure hunter, particularly a successful one crosses the bar, the news quickly makes the discussion circuit through social media.  Members of the treasure diving fraternity are almost instantly aware of the passing of legends like Mel Fisher, Bob Weller, Mo Molinar, Art Hartman, Roy Volker, Bob Marx and others.
Most of those pioneer treasure divers had lived and died in Florida.  Bruce Ward had withdrawn from the "treasure hunting community" and settled Jerusalem, Arkansas, a small unincorporated community in Conway County situated near the Ozark hills in central Arkansas.   Jerusalem's population…a mere 379 people.  To say the area is remote would be an understatement, it really is in the middle of nowhere.
I contacted Cargile Auctions and soon began corresponding with Marco Orozco.   Ben Costello had already referred them to a well-known 1715 Fleet coin dealer, who had spent a weekend examining and appraising the coins.  Marco then proceeded to inform me about the contents of the collection, "We have approximately 500 silver coins.  Our presumption is that any gold was sold off over the years to provide for living costs.  We have 8-Reales down to ½ Reales.  The coins are in various conditions, some cleaned, some partially cleaned, some uncleaned, and several clumps that hold multiple coins.  In addition to coins, we have the two pistol remnants that were pictured in the Argosy magazine article, some pottery shards, a piece of brass trim from a ship, a few cannon balls, and four intact bar-shots."
Marco was thrilled upon learning I served as the archaeologist for 1715 Fleet – Queens Jewels and had written several books on the fleet.  He was interested in having another expert (me) give an opinion on the coinage.  He also had several artifacts in deteriorating condition that he wanted to discuss and seek an opinion on regarding long-term conservation, namely several examples of iron bar shot and the pistol remnants that had been pictured in an Argosy magazine article.  There were also other items in the collection had not yet been identified and he wanted my insight and opinion as a professional marine archaeologist.
Marco suggested, "Since you're located in Louisiana, and if you find it convenient to come up to Arkansas, we'd be happy to schedule a time for you to preview the collection in person."
No second invitation was necessary.  I had already surmised the importance of the collection, it was noteworthy strictly based on its intrinsic value alone, but its historical significance was truly priceless.    To be offered the chance to personally assess the collection prior to the auction while it remained intact, was a once-in-a-lifetime and unique opportunity.
The drive to Arkansas was relaxing and uneventful.  I stayed the night outside of Little Rock and continued the drive the next morning certainly eager with anticipation.  Marco had already disclosed that they were equally anxious to hear my expert opinion regarding the coinage and they also had some conservation questions related to the other shipwreck artifacts.
I arrived at the auction house where I was to meet Marco.  I also met his partners Rodger Cargile and Robert Cargile.  Although I had already seen several photographs of some individual coins and small clumps and had been impressed, nothing prepared me for what I was about to see.  To add to the level of excitement, there were even MORE silver coins!  Just a few days earlier, the family had come in with a metal box.  While going through one of the outlying buildings on Bruce's 60-acre property, they found an old desk.  They noticed that one of the drawers was not as deep as the others.  Upon further investigation they discovered that the drawer had a false back that concealed a hidden compartment.  Inside this secret hiding spot was a metal lock box with a three-digit combination code, the very box I was now holding!  Inside the box were another 150 uncleaned 8-reales cob coins (shown on Front Cover).  These newly discovered coins had not been examined by the expert.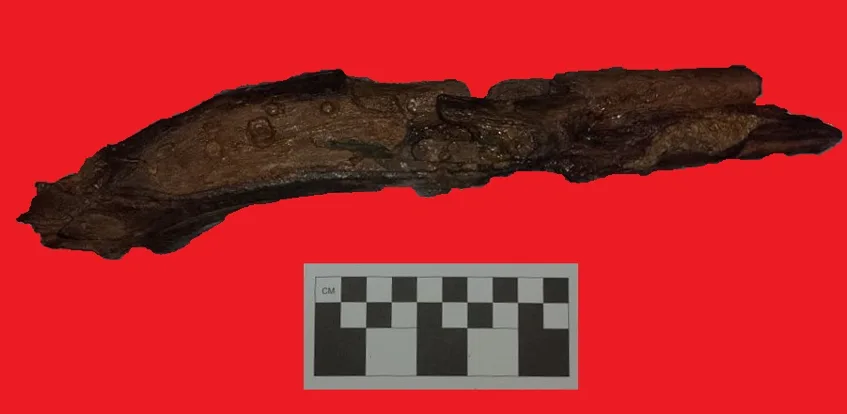 Just a few weeks earlier, I had been in Sebastian, Florida and had the chance to examine first-hand the silver coins Bill Black's group had found on the Cabin Wreck on July 18, 2019.  Captain Kym Ferrell, Mike Penninger, Jeff Harness, Richard Rabon and Andrew Tidball had recovered the coins after blowing a hole about 1,000 feet offshore.  Their find was quite impressive and couldn't have happened to more deserving group.
The find included 32 individual coins and five clumps containing 13 more.  A total of 45 coins plus at least one (and possibly two more) embedded in a large piece of coquina rock.  At the time, it was the most uncleaned coins I had ever seen in one place.  Still, uncleaned Spanish silver coins are not an entirely uncommon sight along Florida's Treasure Coast."
Here I was a few weeks later, much closer to the Ozark Mountains than I was to any ocean.  There sitting on the table in front of me was more than 500 uncleaned silver cobs.  It was truly a thrill and I am forever grateful for the incredible experience.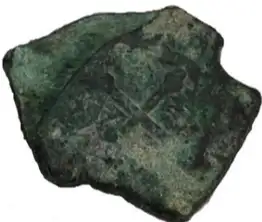 The Cargile auction will showcase approximately 740 silver coins, and miscellaneous shipwreck artifacts.  These coins are cob-type specimens from 8-reales down to ½ real denominations from the 1715 Fleet.  The auction will also feature eight copper maravidis and a two "portrait dollar" type coins that probably originated from "Archie's Wreck.[1]"
In addition, the Bruce Ward collection included several bundles of his personal correspondence dating to the 1960s.  I had the opportunity to examine these letters and that too was fascinating.  Ward had attained somewhat of a local celebrity status after the Argosy article and many of these letters are what I would call "fan mail." Others are important documentation related to his dealings with Kip WagnerKip Wagner (1906 – 1972) was instrumental in the formation of the team that later became the Real Eight Company and one of the greatest salvage groups that ever explored the 1715 Fleet wrecks.  He ... More and Mel Fisher.  I was very pleased to learn that the family plans to donate the correspondence to the 1715 Fleet Society, an organization dedicated to researching the history of the 1715 Fleet, its loss, rediscovery and recovery.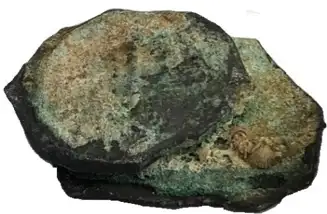 It is my sincere hope that through the auction and their history preserving efforts, that Bruce Ward's accomplishments and legacy will endure!
Our thanks to Rob Westrick for allowing us to use his article on the Bruce Ward Estate. Also, many thanks to Fleet Society member Buddy Martin (member # 39) for the use of his image of the bowl full of cobs that he purchased at the Cargile Auction on December 9, 2019.