Our featured treasure for November is the emerald-studded gold cross (below), found by Frank Giovenco at the Corrigan's Beach wreckA 1715 Fleet wreck site located 5 miles north of the Vero Beach city limits. The site is referred to as the "Corrigan's Beach Wreck" because the beach was once owned by Hugh Corrigan. It has bee... site in 1984.  Frank's fabulous find measures 1 – 5/16 inches tall and 7/8 of an inch wide.  It is set with six of the clearest emeralds that we have seen come off of the "wrecks." The center stone is estimated to weigh 60 points, the others – 40 each (a point is equal 1/100 of a carat).  The metal is 22K + solid gold.  There is abundant evidence that the cross was hand-carved rather than cast.  In researching the reverse markings Frank found that they were quite similar in pattern to other major pieces of treasure from the 1700s.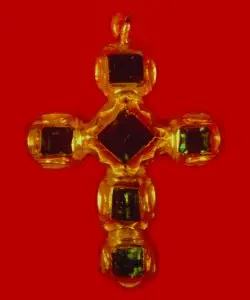 Frank Giovenco described his find as follows:  "I thrust my shovel into the sand, turned it over, and what my eyes saw sitting on top of that little piece of sand took my breath away.  Lying there face up, shining all green and gold was an object that was unmistakably a piece of 1715 Fleet Treasure.  You could have recognized it with your eyes closed, just by feeling it.  Before me was a small gold cross studded with six perfect emeralds.  I picked it up in my trembling hands, clutched it close to my chest, and cast my eyes up toward the sky.  I looked back down into my hands and turned it (the cross) over.  I was further excited by the fine engraving work on the back of it.  I said out loud, "Oh my God, this is the big one!  This is the big one!" (This statement was excerpted from the 4th-Quarter 1986 issue of PLUS ULTRA Newsletter.)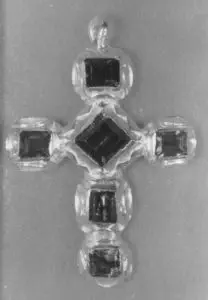 There is a lesson to be learned from Frank's ironic afterthoughts: "I might also like to add that right next to where I found it (the emerald-studded gold cross) there were two holes were people had dug out targets – within two feet of where the cross laid…under only four inches of sand!"
Images & text courtesy of Ernie Richards and Frank Giovenco. Photos courtesy of Frank Giovenco.