Our Treasure of the Month for October is a departure from our usual treasure offerings.  Unlike most of our featured treasures it is not something that can be held in one's hand and studied up close. It is not made of gold or silver, is not a valuable gem or rare artifact. And, unlike most precious relics that, once recovered, are treated with care and respect to be displayed for the enjoyment of all that gaze upon them our featured treasure has no such happy ending. For the cannons of Fort Pierce stand as monuments of what was once strong and proud, that is now weak and crumbling. But, what are the cannons of Fort Pierce and how did they get there?
Fort Pierce is a city in and the county seat of St. Lucie County, Florida. It is part of the Treasure Coast region which lies along the Atlantic Coast of Florida. Not far off the beaches of Fort Pierce are the remains of several wrecks that were part of the 1715 Fleet. Consumed in a massive hurricane, the remains of the once mighty fleet are scattered from Fort Pierce north a distance of some 35 miles to Sebastian. North of the inlet at Fort Pierce is one of those wrecks, the Urca de LimaSee Wedge Wreck. More. Located 200 yards offshore in 10-15 feet of water, the Urca de LimaSee Wedge Wreck. More became the first of the 1715 Fleet wrecks to be discovered in modern times. On July 5, 1928, William Beach of Fort Pierce found several iron cannons and anchors at a wreck near the beach about two miles north of Fort Pierce.  The City of Fort Pierce commissioned divers to procure the cannons from the wreck. All in all, ten cannons and three anchors were recovered on August 24, 1928. Six more cannons and another anchor were salvaged on September 4, 1928.
Once recovered, the cannons were used to decorate the lawns of public buildings and property. On September 12, 1928, two of the cannons were placed on concrete foundations and placed in front of City Hall. Three more, together with an anchor, were placed in the city park near U.S. #1 in Fort Pierce.
The cannons are still there today. But, regrettably, they were not properly conserved. As can be seen in these pictures (below) the cannons themselves are slowly disintegrating, victims of humidity and the elements.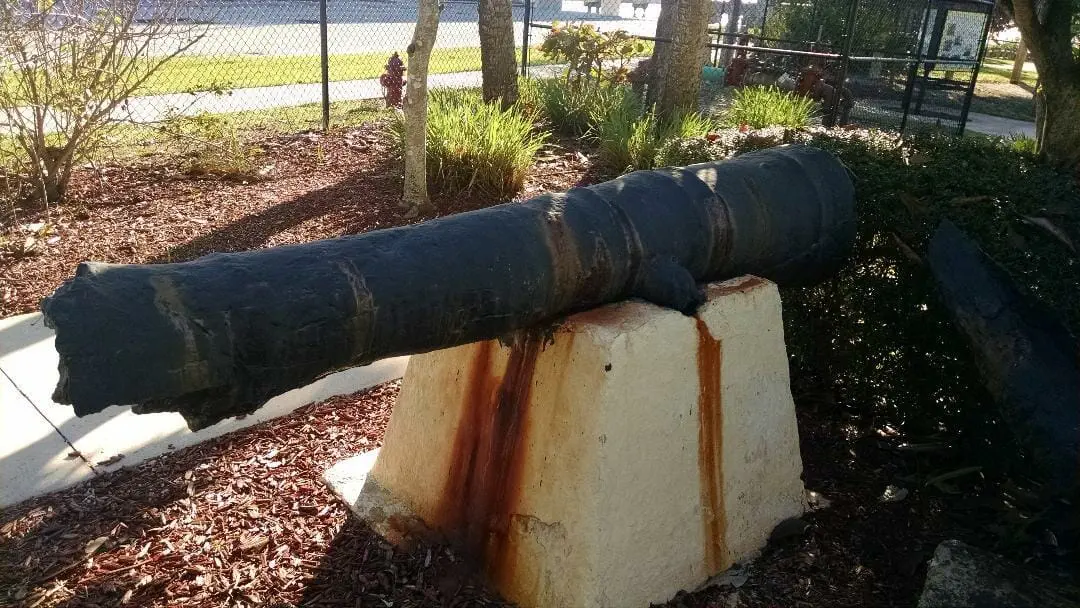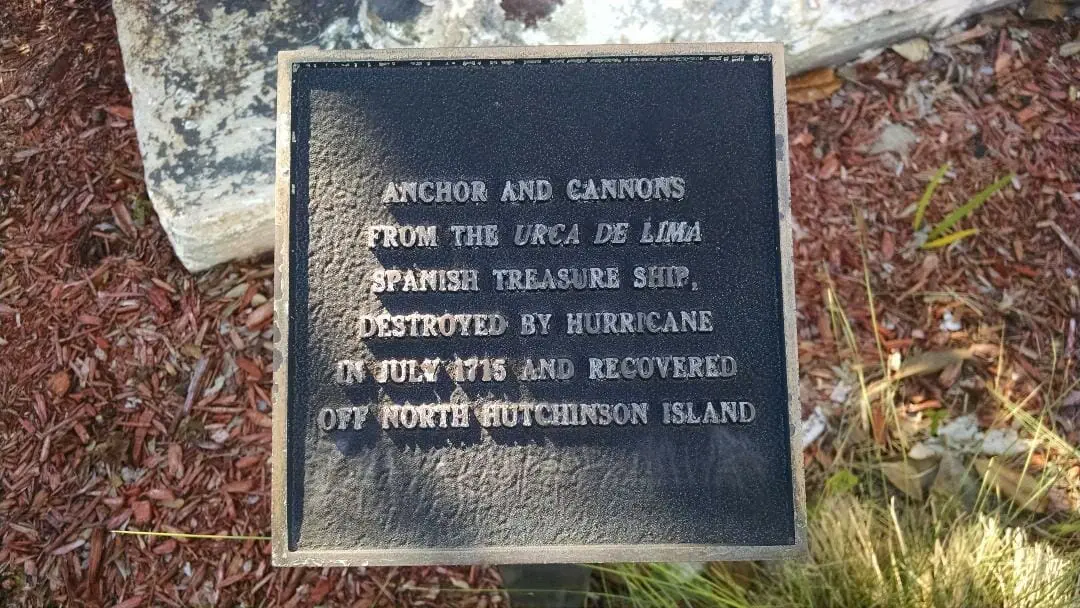 But, the good news is that other cannons have been found along the treasure coast, even as recently as 2018. Many of these cannons have undergone conservation measures that will ensure their longevity and protection. Many can be seen in museums throughout Florida even today.
Some of the information in this text was obtained through research conducted by Rob Westrick. Photos by Ben Costello.