Within the State of Florida's archaeological collection there resides an unusual and rare artifact, catalog number 93 A. 673. 000103. 0001, lab tag 6458, with the designation "bone toothpick". It was received into the State's collection in 1993 after being found at the site number 8SL – 00017, the Douglas Beach Wreck, part of the 1715 fleet. It is 9.9 cm in length, off white in color with what appears to be the crowned upper torso of a man which sits atop a long pointed shaft tapering to a point. Quite possibly, by shape, a toothpick.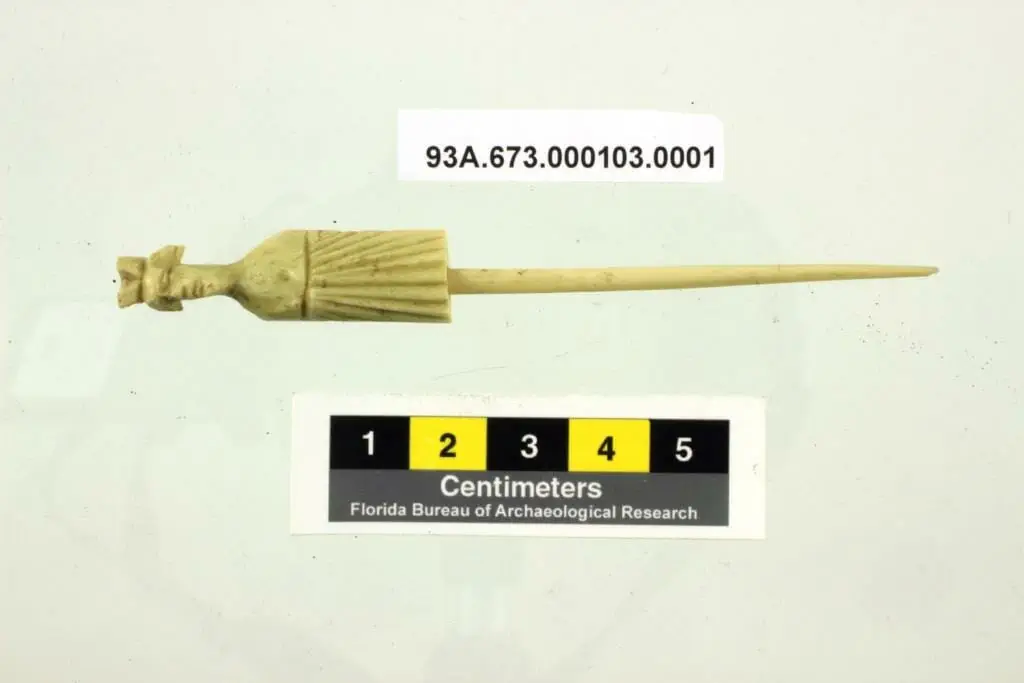 This item is also featured in "Artifacts of the Spanish Colonies of Florida and the Caribbean 1500 – 1800", volume 2, page 231, (Smithsonian Books, 2002), by Kathleen Deagan. There it is identified as a "bone anthropomorphic pick". The item is not mated or linked to any other item in the state's collection. In other words, it was thought to be unique.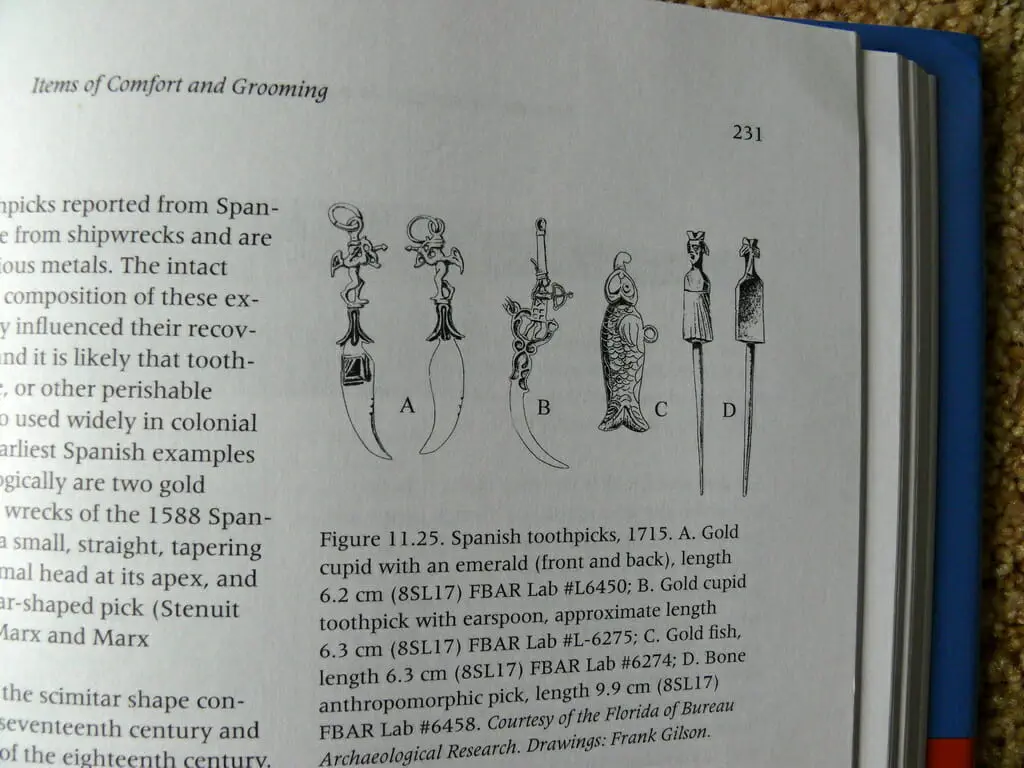 In the late summer of 2016 another similar "bone toothpick", privately held, was brought to the attention of the 1715 Fleet Society, which published a brief article on the item in September 2016. This artifact displayed similar characteristics to the one in the State of Florida collection. Slightly longer, just short of 11 cm, and featuring a different male figure, it was concluded that these items were possibly part of a set owned by a passenger of that doomed fleet. Upon close inspection, we concluded that this item was not bone but rather ivory.

Following the publication of this photo, we were contacted by another individual who upon reading our article sent us information on yet another toothpick that he had acquired some years ago. An avid collector of 1715 Fleet related material, he indicated that he was interested in toothpicks and felt that his artifact was particularly valuable because he had never seen another like it. He was kind enough to send us an image of his toothpick, and that is when it became apparent that there was an alternative explanation for these items.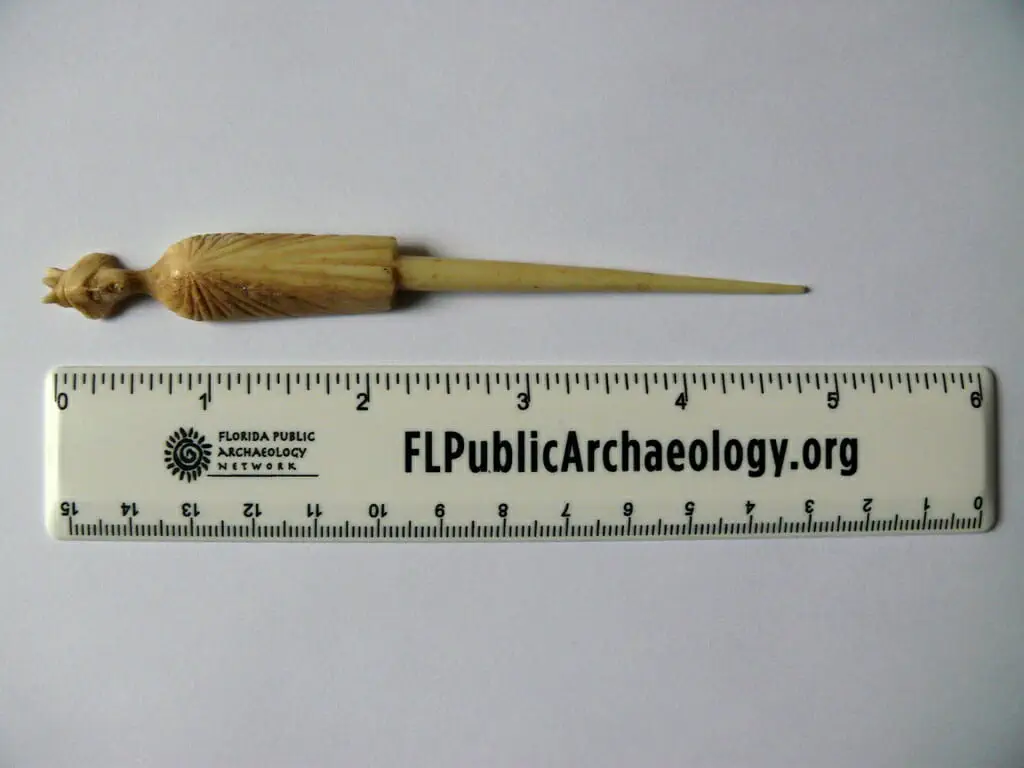 Like the item in the State's collection and the one featured in our article, this third artifact was approximately the same length and color. Its most distinguishing feature, however, was that the figure was not a man like the other two. Rather, it was a woman with a crown. Obviously, a queen. It then occurred to us that what we were dealing with here were not toothpicks at all but pieces of a chess set. A king, a queen, and a bishop. It was surmised that the long shaft was not a toothpick at all but rather fit in a hole on a chessboard that would be used to keep the chessmen in place as a ship rocked back and forth. We understood of course that this was just a theory and we would need more evidence before it could be confident in it.
In an effort to secure a more professional opinion on the matter the society contacted archaeologist John de Bry for his opinion. His proposal was that these pieces might have been part of a spillikens game, also known by the modern name of Jack Straws. He pointed out that from medieval times to the modern period spillikens was a popular game with pieces ranging from simple wooden sticks to more ornate bone or ivory (chess-like) pieces. He also was of the opinion that the chessmen theory was also quite acceptable.
Our search continued to try to find the final answer to this mystery. It would take more than a year and a continent away for the answer to finally surface. Archaeologist John de Bry was traveling in Europe and happened to visit a museum in Dieppe, France.
While visiting the Chateau-Museum he happened upon a display…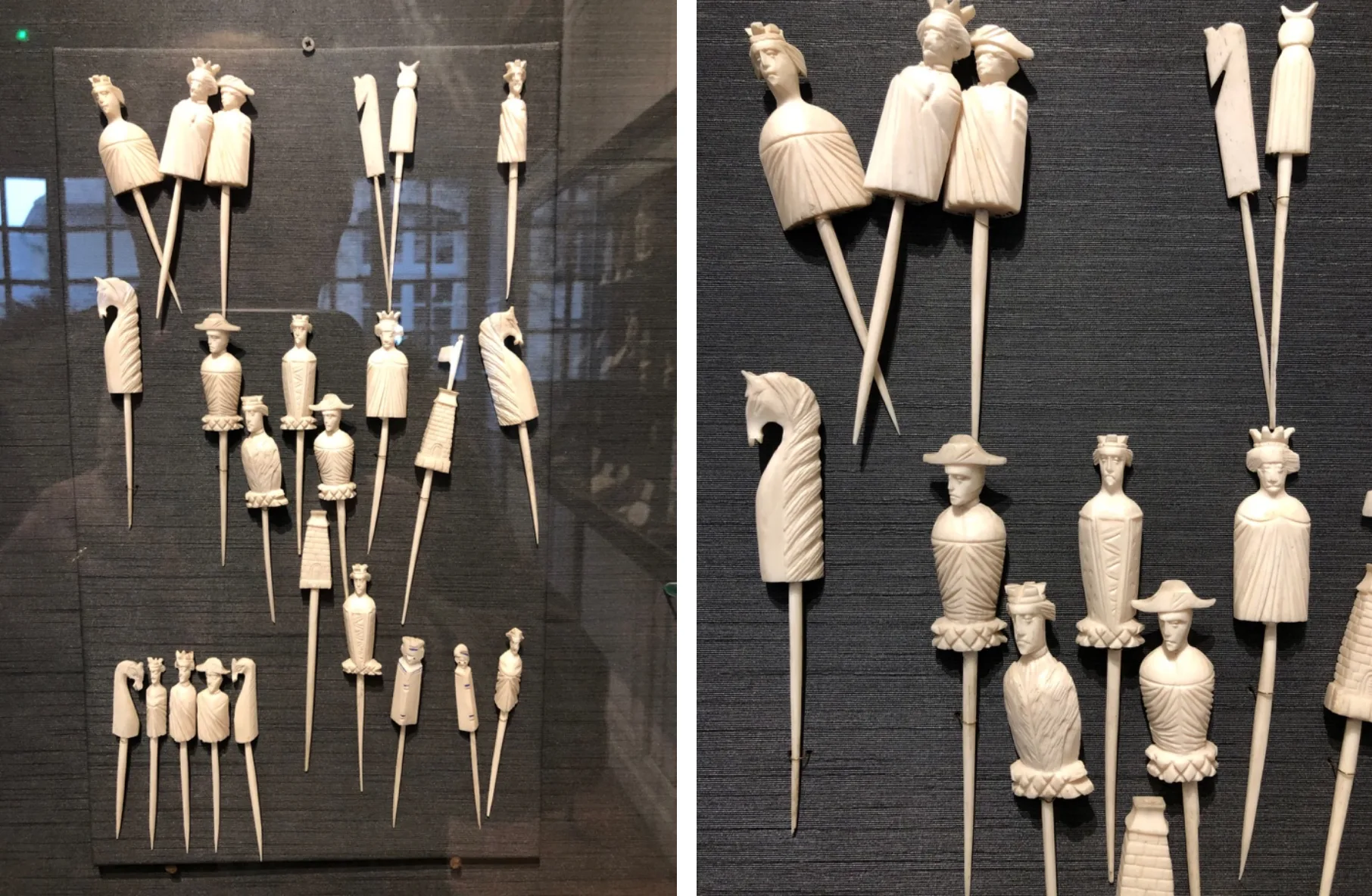 There was our answer.
The curator of the museum advised him that these pieces were from a game called Jonchets. This game was well known and played widely in Western Europe well before the 17th century. Bone or ivory pieces were luxury items. Jonchets was a pickup stick game from France played with hard sticks. Published references to the game date back as far as the 17th century, and it was quite popular at the start of the 20th century as well. The sticks were frequently made of rush, but also of bone or ivory.
The game can be played by 2 to 4 players with 30 to 40 sticks at a length of 10 cm. The sticks are thrown on a table and the rules of play are likely similar to Jack Straws. In Jonchets, some sticks may have carved heads which carry different point values. So in light of the Dieppe display, we conclude that Jonchets is a better explanation than chess pieces.
No doubt, the 1715 Fleet still holds many surprises for its investigators. This new information helps us to understand the variety of artifacts that are still to be discovered and that treasure does not consist of just gold and silver.
Special thanks to John de Bry whose persistence, knowledge, and keen observation helped to make this story possible…and so entertaining.
Special thanks to Phil Flemming who helped edit this article.
Ben Costello, Director 1715 Fleet Society