Our Treasure of the Month for August is this fully intact "olive jar" recovered from the Douglass Beach wreckA 1715 Fleet wreck site located a few miles south of the Fort Pierce Inlet. It is often referred to by its old name, "Colored Beach." In some early Real Eight Company correspondence, it was referr... More site near Fort Pierce, Florida. Attractively adorned with coral encrustation this container is truly a treasure indeed.
Earthenware vessels, such as the one here, are common on virtually all Spanish shipwrecks but are rarely found intact. Used for transporting foodstuffs and various liquids, olive jars were the "Mason Jars" of that era. They were also occasionally used to conceal silver coins that were hidden in the jars and covered with pitch tar.
Our featured treasure is often referred to by divers as a "beehive" jar, given its hive-like shape. It is among the most common of shapes found in southern waters. A study of olive jars was actually conducted by former Florida State Archaeologist John Goggin. He published the definitive work on the subject in 1960. In that study he came up with three distinct periods of olive jar production with various styles attributed to each period. Our jar is from what he called the Middle Style which was from ca.1580 to 1780. Jars from this period are the most abundant in the New World sites. They are characterized by their distinctive egg-like form, thick doughnut shaped, raised mouth and lack of handles. All olive jars were hand-made and as such varied in size. Middle Style vessels were between 9.2" and 11.45" in height and from 8" to 8.5" in diameter. Our jar is 10" tall and 8" wide. All of these features place it squarely in the Middle Style.
It should be noted that olive jar shards are commonly found on beaches along the Treasure Coast. Our Treasure of the Month for March 2013 features one such shard that was found on the beach just south of the McClarty Treasure Museum. Not all pottery shards found among the wreck sites of the 1715 Fleet are from Spanish or European origin. The pottery shards depicted in the image below are from the 1715 Fleet wreck site located at Corrigan's Beach, north of Vero Beach and are of Mayan origin.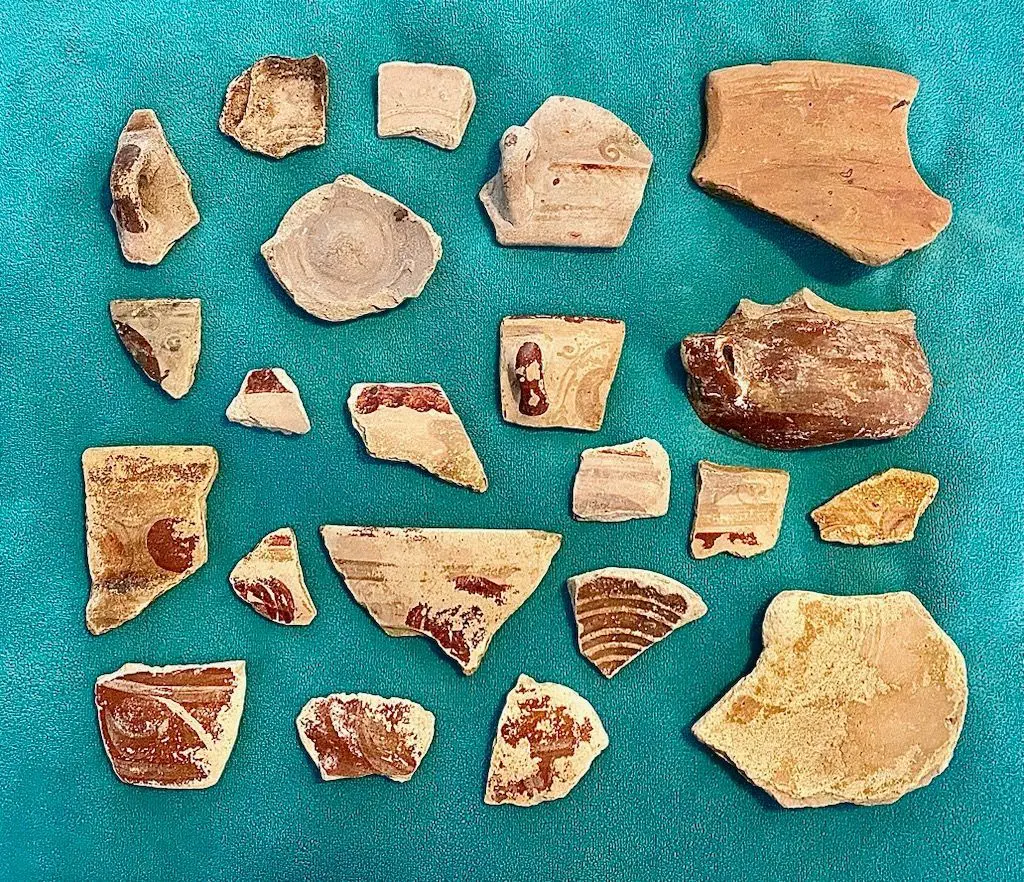 For more information on earthenware vessels/olive jars see John Goggin's study "The Spanish Olive Jar An Introductory Study", Yale University Publications in Anthropology, No.62. New Haven, 1960.
Also see Ernie Richards' booklet "Shipwreck "Arti-facts" From the Spanish Treasure Fleets, En Rada Publications, West Palm Beach, 2018.
Note that information provided in this text was taken directly from Ernie Richards' "Shipwreck Arti-facts" cited above.