Every so often we feature an item as our monthly treasure that is not particularly unique or special but is noteworthy because it has a story to tell. Our Treasure of the Month for June is such an item.
Although a beautiful coin, this undated Mexico four escudos is not by any stretch of the imagination distinctly rare. Many have been discovered on the wreck sites of the 1715 Fleet. What makes this coin so different is how it was discovered.
In July 2015 a gentleman walked into a coin shop in Vero Beach looking to sell a coin that he had in his possession for over 50 years. Here is his story.
August 5, 2015

It's the mid 1960's and I am stationed at USCG Station FT. Pierce, Florida. In the waters off Pierce beach treasure hunters are looking Spanish Treasure lost from the 1715 hurricanes.

But that's not all that happening at this time. US Navy Personnel are searching beaches for mines and other unexploded ordinance from WWII mining of the beaches. Tank traps are in the shallow water off beaches too. Indian River County park at Round Island has a display of several of them.

On Ft. Pierce South Beach Inlet is a tower manned from sunrise to sunset by the Coast Guard logging boats in and out of the inlet. One such boat was the diving boat Dee Gee. After several weeks of watching this boat go in and out, I decided to visit the dock where it was tied up at. On the dock by the boat was a tub filled with water and cannon balls. After we talked awhile they told me I could have a cannon ball, so I reached in and grabbed one with a small piece of coral attached to it. I returned to base, found a small hammer and knocked the coral off the cannon ball. Imagine my surprise when a gold coin fell out.

For the last 50 years, I have had this coin with me or locked in a safe deposit box. It is now 2015 the 400th anniversary of the sinking of these ships. I took my coin to West Bay Trading Company, it was identified as a 4 escudos from the 1715 Fleet.

I also have a copy of Argosy Magazine from _____which has a feature story on the 1715 Fleet.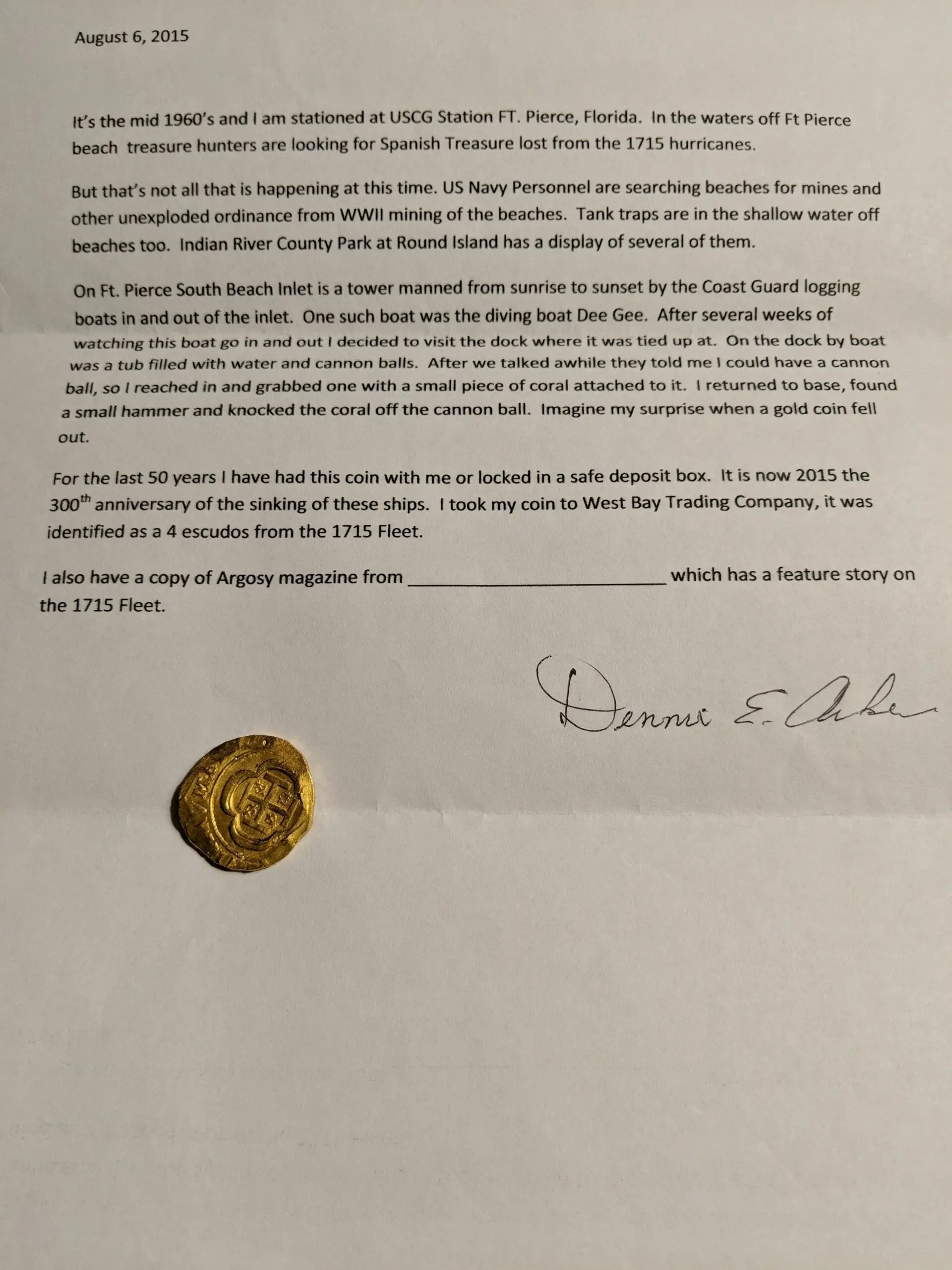 The Argosy Magazine that he referred to is from January 1965 and can be found on this site here.
The coin was purchased on July 31, 2015, the 300th anniversary of when it was lost.