Our featured treasure for October is this solid gold rosary crucifix. We have chosen this item because of its extreme rarity. The rosary to which this crucifix is attached was found in August 1993 at the Cabin WreckCabin Wreck-A 1715 Fleet wreck site that is located about 2 miles south of the Sebastian Inlet. This wreck site gets its name because it is located about 500 yards directly seaward of what used to be ... More not far from the McClarty Treasure Museum near Sebastian, Florida.
The obverse side of the crucifix features a small gold image of a crucified Christ.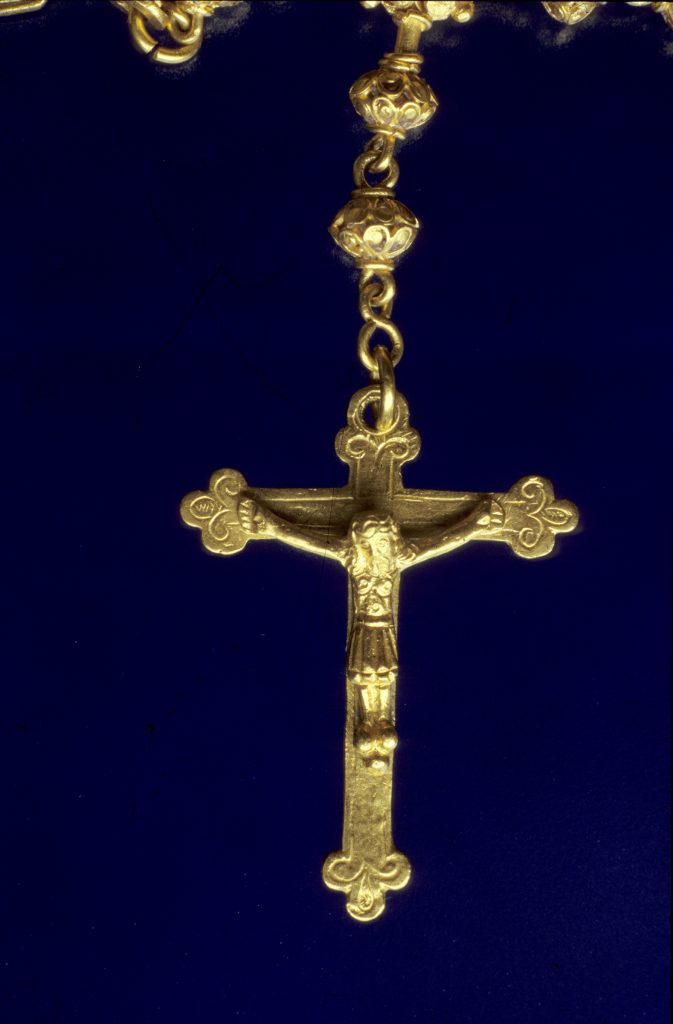 The reverse, an ornate carving.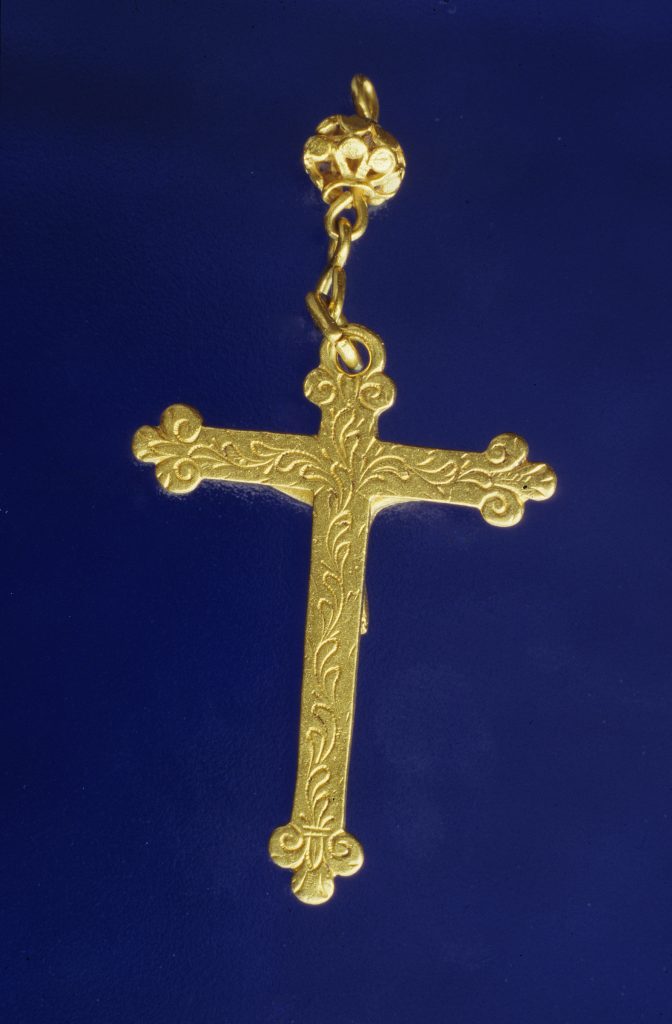 What makes this item so interesting is that it is part of a solid gold rosary. Rosaries which are entirely made of gold are rare in the extreme. In most instances, the component parts of a rosary consist of a gold chain, gold crucifix, and beads that are made of another material, such as wood, coral, amethyst or mother of pearl, to name a few.  Sometimes there were gold medallions featuring Saints or the Christ child attached to the rosary chain. To find a rosary with all component parts (including the beads) made entirely of gold is rare indeed. However, to find more than one in the same location is beyond rare.
But, that is what actually happened. According to firsthand accounts, three of these extremely atypical rosaries were found together in August 1993. Two more were found in the same location a year later.  Four of the five rosaries are depicted in the images below.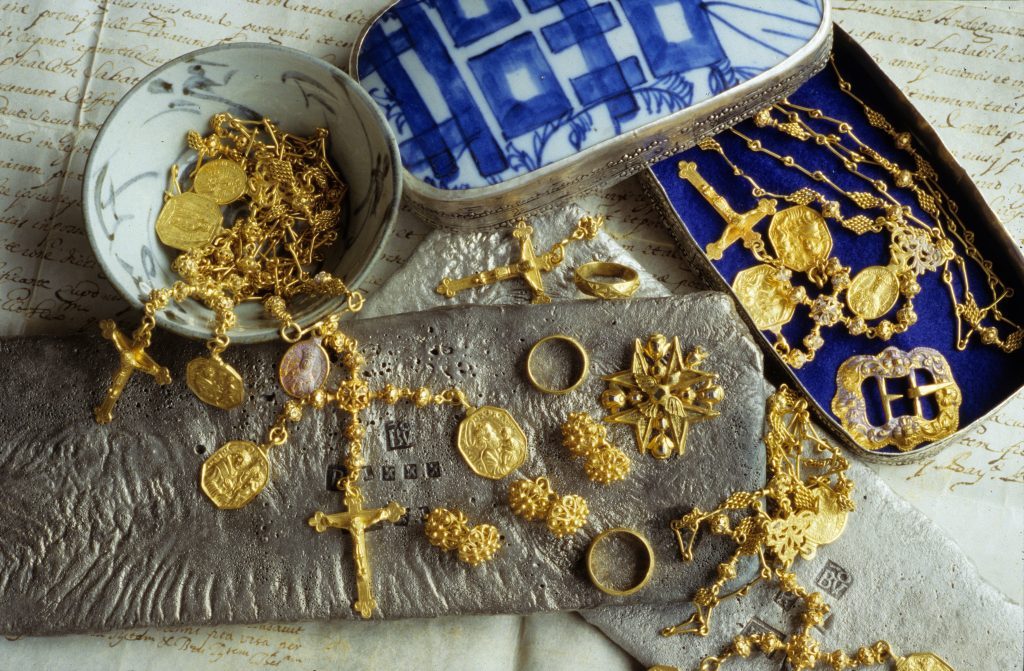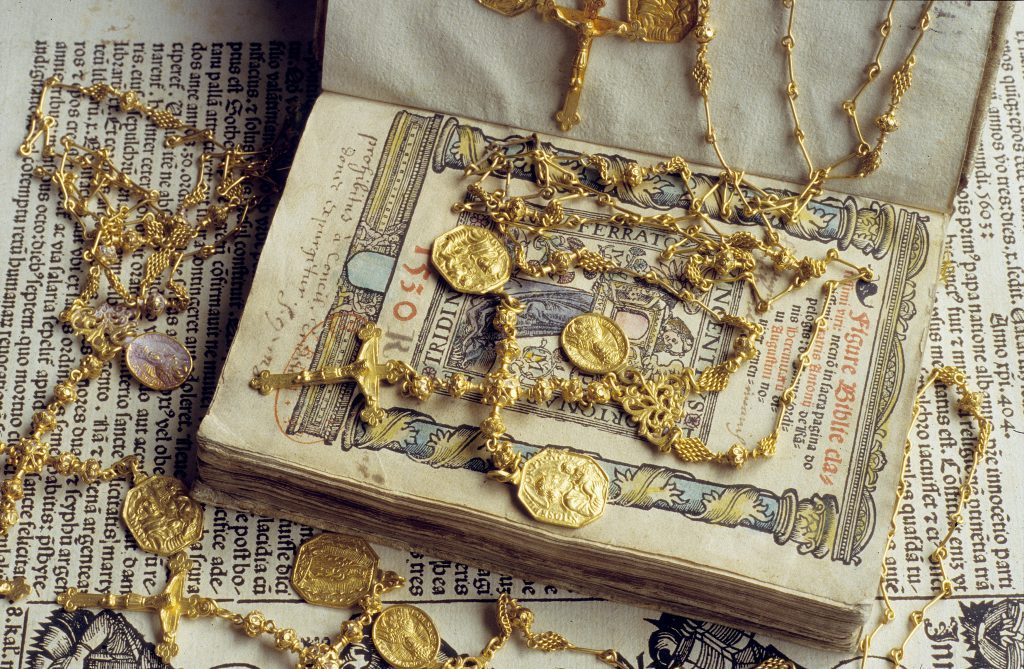 Here the rosaries are the focal point of the arrangement. All of the rosaries are complete, save one where the crucifix has become dissociated from an otherwise complete rosary.
There were many crucifixes and rosaries recovered from 1715 Fleet wreck sitesA place where one of the ships from the 1715 Fleet wrecked. Includes the beach and the water in the vicinity of the wreck.. Some of these have been featured here before (see TOM February, 2013; TOM November, 2013; TOM August, 2014; TOM May, 2016).
All in all, we think that this very rare and beautiful item deserves to be recognized as this month's featured treasure.