Our featured Treasure of the Month for May is this nifty 12 coin aggregate (informally referred to as a "clump") consisting of silver reales from the Spanish colonial mint at Mexico City. The clump has dimensions of approximately 3 inches long by 2 inches high by 1+1/4 inches wide and weighs in at 340.1 grams. It is held together by ocean deposits of blue-green sediment and shells that have the consistency of a cement-like material. Upon close inspection the clump contains 12 coins, 2 four reales and 10 eight reales. Although the coins are not completely visible what can be seen are coins that are largely un-corroded.
This small clump was originally part of a larger, 1,961 gram clump purchased at the Real Eight Museum in 1966 by Dr. Will W. Orr. The complete story of Dr. Orr and how he came into possession of the original clump is fascinating. He became friends with Kip WagnerKip Wagner (1906 – 1972) was instrumental in the formation of the team that later became the Real Eight Company and one of the greatest salvage groups that ever explored the 1715 Fleet wrecks.  He ... More in the mid 1960's and began purchasing coins and clumps from him. The clump from which our featured treasure originated was purchased in June 1966 as evidenced by the letter of Elva McArdle, dated June 29,1966 (see below).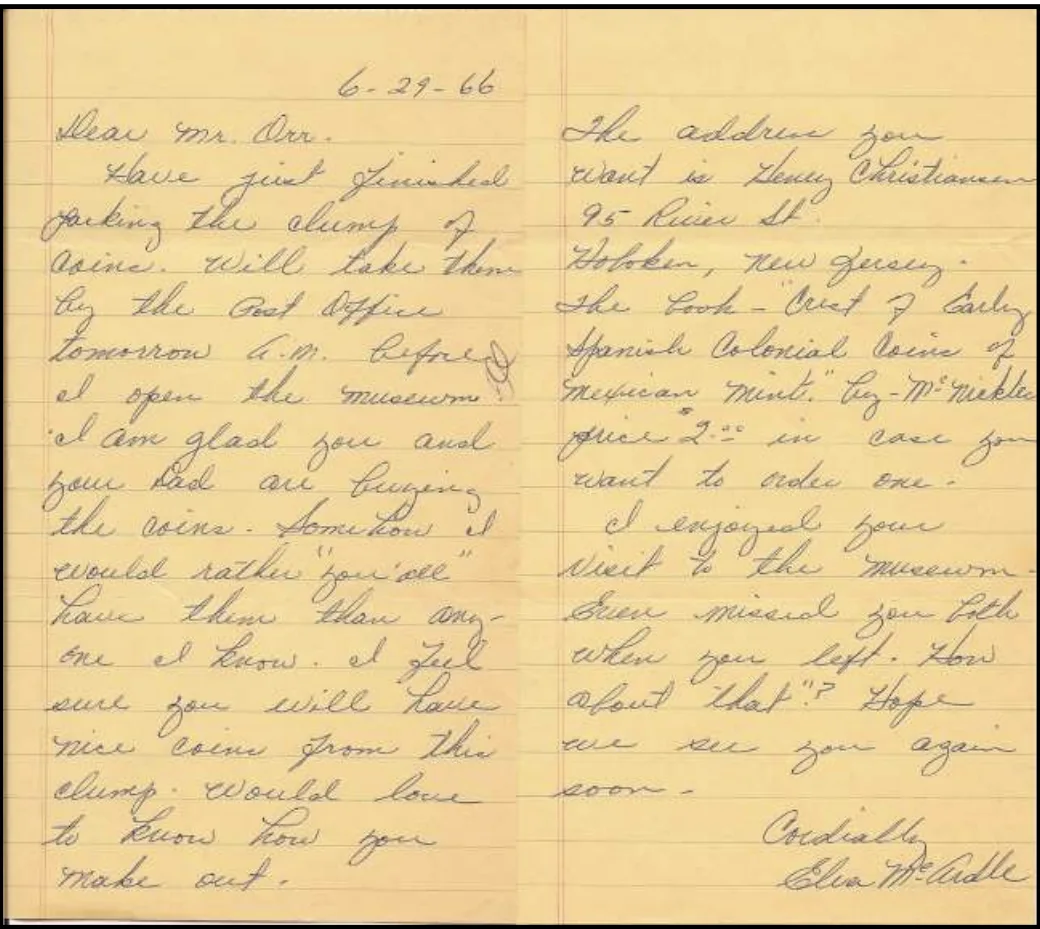 Details about the clump can be found in the letter of July 6, 1966 from Dr. Orr to his son, Wilson. Of particular interest is the notation of the price paid by Dr. Orr for the 1,961 gram clump, $950.00. A recent estimate would place the value of this clump at $25,000 to $30,000.
The colorful beauty of this item cannot be fully appreciated without proper lighting.  So, we have taken several images of the clump in different lighting to showcase its beauty.
It should be noted that this is not the first such item that has been featured as a Treasure of the Month. To access other clumps that have been presented in the past see our Treasure of the Month for February 2012, February 2015, October 2015 and April 2018.
You can learn more about the Orr Collection in our archives here. You can also download and view a powerpoint presentation prepared by Wilson W. Orr.